Soong says sorry over his 'Persian cat' comment
People First Party (PFP) Chairman James Soong (宋楚瑜) yesterday apologized for his "Persian cat" comment, saying it was an inappropriate metaphor and was not aimed at President Ma Ying-jeou (馬英九) or anyone else in particular.
Soong used the metaphor during talks with former Yunlin County commissioner Chang Jung-wei (張榮味), during which Soong borrowed a saying from former Chinese leader Deng Xiaoping (鄧小平) who said that "Black cat or white cat: If it can catch mice, it's a good cat" (黑貓白貓, 能抓耗子的就是好貓).
Soong then followed that comment with "Not like someone who's like a Persian cat: Good-looking, but can't catch mice," a remark local media saw as a satirical jab at Ma, who is seeking re-election.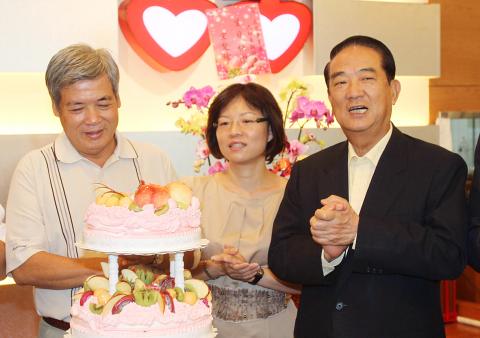 People First Party Chairman James Soong, right, attends a friend's birthday party in Douliou City, Yunlin County, on Monday.
Photo: CNA
In a press release yesterday, Soong said he and Chang were exchanging opinions on the political situation and that while discussing Deng's remark, Soong had unintentionally footnoted it with his "Persian cat" comment.
Though it was not targeted at anyone, Soong said he was deeply apologetic over the incident and would reflect upon the inappropriate metaphor.
Political figures, even in private, should not be flippant, which can lead to misinterpretations by the media, Soong said.
He added that he hoped no one would read too much into his words and that he would take the incident as a warning and be more careful when speaking in the future.
Soong, a former secretary-general of the Chinese Nationalist (KMT) and the only elected governor of Taiwan Province, serving from 1994 to 1998, has remained tight-lipped on whether he will run in January's presidential election.
Comments will be moderated. Keep comments relevant to the article. Remarks containing abusive and obscene language, personal attacks of any kind or promotion will be removed and the user banned. Final decision will be at the discretion of the Taipei Times.