Activists protest in front of Brazil office
Dozens of environmental activists gathered in front of the Commercial Office of Brazil yesterday, urging the Brazilian government to put a stop to the recently approved construction of the Belo Monte Hydroelectric Dam, which they say will destroy much of the Amazon rainforest.
The demonstration was part of a series of simultaneous protests worldwide targeting Brazilian embassies or consulates.
A short play by people wearing hand-painted Aboriginal masks trying to save the earth by fighting off another person wearing a blue monster mask and wielding an ax — symbolizing the construction of the dam — was performed on the sidewalk, while protesters shouted: "Stop the dam construction and protect the rainforest."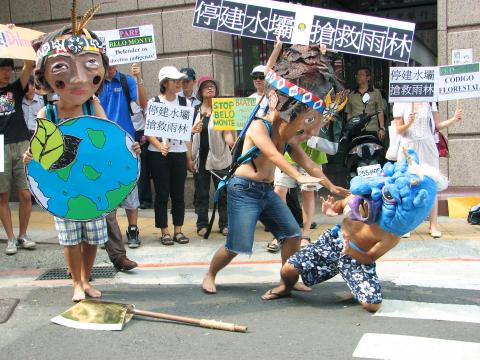 Protesters pretend to fight off a dam construction water monster during a protest in front of the Commercial Office of Brazil in Taipei yesterday.
Photo: Lee I-chia, Taipei Times
The project on the Xingu River, one of the Amazon's main tributaries, was approved by the Brazilian government and passed by the Brazilian Institute of the Environment and Renewable Resources on June 1. The dam will be the world's third-largest hydroelectric project.
The construction plan triggered several protests from environmental and human rights activists in Brazil, with protest leaders asking for global support through the Internet.
"I started the online petition in Taiwan because I saw a global petition asking for support on Facebook," said Shamba (Lin Su-ling, 林素綾), who organized the rally.
The dam will divert more than 80 percent of the water from the Xingu, leaving downstream areas short of water, Shamba said, adding that the water supply and power generation efficiency of the dam could be as low as 40 percent because of the three-to-five month annual dry season.
Shamba said that if the "disastrous" dam were built, it would destroy at least 1,500km2 of rainforest land, resulting in the forced displacement of between 20,000 and 40,000 indigenous people and the loss of countless numbers of invaluable animal and plant species.
Green Party Taiwan spokesperson Pan Han-shen (潘翰聲) said that while many people regard hydropower as a renewable and environmentally friendly energy source, it often results in the destruction of the natural environment.
The only way to protect the earth is by saving energy and Taiwanese should take an interest in such issues as similar cases are occurring here.
Yapit-Tali, an Aboriginal representative from the Against Kaotai Reservoir Self-Help Association in Hsinchu City, said many Aboriginal villages in Taiwan were facing similar threats of forced displacement.
Their traditional culture will disappear, as their homeland and natural environment may be sacrificed for economic development, she said.
Comments will be moderated. Keep comments relevant to the article. Remarks containing abusive and obscene language, personal attacks of any kind or promotion will be removed and the user banned. Final decision will be at the discretion of the Taipei Times.