Workers protest against overwork, bad conditions
ENOUGH: Demonstrators marched through Taipei and rallied outside the Council of Labor Affairs, where they handed in a petition demanding better protection
More than 100 workers and people from labor-related groups held a rally in front of the Council of Labor Affairs (CLA) on the eve of Father's Day yesterday morning to protest against what they say are inordinately long working hours.
Holding handmade signs with messages such as "I work such long hours that I can't see my children when they're awake" and "I'm so tired from work that I don't have the energy to raise children," protesters shouted: "Abolish article 84-1" and "Against working inordinately long hours."
The protesters said an increasing number of deaths from overwork were occurring in Taiwan because of the amended Article 84-1 of the Labor Standards Law (勞工基準法).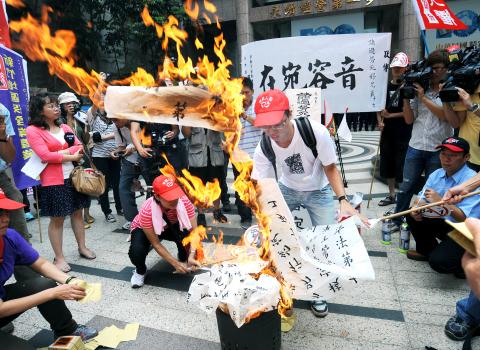 Workers and people from labor and union groups burn "ghost money" to commemorate workers who have died from overwork at a rally in front of the Council of Labor Affairs in Taipei yesterday.
Photo: Lo Pei-der, Taipei Times
Article 84-1 states that the working conditions for certain jobs can be established through labor and capital negotiations, which excludes them from other articles that regulate maximum working hours, overtime hours and minimum holidays.
Most of the workers gathered yesterday were from the security sector and the electronics, electrical and information technology industries in Hsinchu.
The Hsinchu area's Security Service Industry Trade Union chairperson Lo Chen-kun (羅振昆) said several employers did not hire enough security personnel, so much so that two security workers had to work 12-hour shifts instead of three workers doing eight-hour shifts.
Lo said that although the government had suggested that the maximum monthly working hours for the security sector be set at between 240 and 288 hours, such employees continued to work an average of more than 312 hours a month without overtime pay and with very few rest days.
A worker in his 40s surnamed Lo (羅), who has worked in private security for about a decade, said he worked an average of 12 to 15 hours per day, which meant he could only see his children once a week.
On one occasion, he worked 372 hours in one month, he said.
"Tomorrow is Father's Day, but I won't be happy at all," he said. "Do you think I have any quality of life?"
Trade Union of the Electrical, Electronic and Information Technology Industries chairperson Liang Jui-fang (梁瑞芳) said the employers clearly stated in the labor contract that they applied what is known as the job responsibility system, under which no overtime pay is provided even if employees work inordinately long hours.
Many engineers died on their way to work or at home because of long working hours and excess stress, Liang said.
The protesters prayed for workers who have died from overwork and burned "ghost money" in front of the council's headquarters. They then presented a pig liver, symbolizing a worker's ailing liver from overwork, to CLA Department of Labor Standards section chief Huang Wei-shen (黃維深), along with their petition to demand better-protected working conditions.
The protesters shouted their demands as they paraded through the streets of Taipei.
In response, the council said in a press release that it would enforce stricter inspections on labor conditions.
The council also launched a special project, in collaboration with local governments, to conduct a nationwide large-scale inspection of about 10,000 cases, it said.
"Working conditions where employers are unwilling to pay overtime and where workers work inordinately long working hours will be prioritized by the Council when carrying out inspections, and violations can lead to fines of up to NT$30,000," Huang said.
Comments will be moderated. Keep comments relevant to the article. Remarks containing abusive and obscene language, personal attacks of any kind or promotion will be removed and the user banned. Final decision will be at the discretion of the Taipei Times.