Grandma takes kids on charity bicycle tour
Even while suffering from cancer, philanthropist Chen Chou (陳綢) has not slowed down in her quest to do good deeds.
On Monday, she set off on a bike trip with a group of children to extend their spirit of service across the country.
The 81-year-old native of Puli (埔里), Nantou County, is famous for her charity work, which has earned her the affectionate nickname of "grandma" from the public.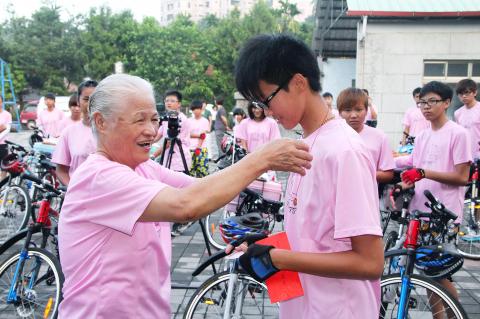 Philanthropist Chen Chou, left, hangs an amulet around the neck of one of her fellow participants in a 14-day charity bicycle ride as the group got ready to set off from Puli Township, Nantou County, on Monday.
Photo: Tung Chen-kuo, Taipei Times
Chen led a group of 15 children on a 14-day "map diary of smiles — summer charity trip."
The cycling team will travel south from Nantou to Pingtung and then up the eastern seaboard, before heading home.
To make the trip more meaningful, Chen and her young guns will provide community service in Chiayi in a Typhoon Morakot-stricken neighborhood and street-cleaning services in the famous vacation destination of Kenting. They will cap it off by sorting materials at a recycling station in Hualien.
Aside from a few sections on the expressways where the group will travel by train or bus, they will complete most of the trip by bike.
Fifteen students from National Chi Nan University will join them for part of the trip to help take care of the kids.
Before the group set out early on Monday morning, Chen gave each of the children a red envelope to wish them a safe and happy trip. Inside was NT$100 in lucky money and a walnut, which symbolizes good luck.
The average age of the group is 15, with eight girls and seven boys. Eleven of the children come from single-parent homes, or are raised by grandparents.
"I'm really looking forward to the coming two weeks and to completing this dream with my friends," second-grade participant Huang Yen-ju (黃彥儒) said.
A parent, Wu Shu-hui (吳淑慧), thanked Chen for giving her kid a chance to learn to help others and called the event a life-changing opportunity for her child.
Chen is known in the country for her charitable deeds and for overcoming a life riddled with misfortune.
She was born to a poor family and was given up for adoption as a young child. She never received a formal education.
Chen was diagnosed with colon cancer 40 years ago and has since dedicated her life to charity.
According to local media reports, Chen sells glutinous rice dumplings to save enough money to build a temple and support her work.
The philanthropist established the Liang Hsien Tang Welfare Foundation and continues to help disadvantaged children and families with the money she makes from selling food.
The pains from more than 100 chemotherapy treatments has not stopped her trying to make the world a better place.
Comments will be moderated. Keep comments relevant to the article. Remarks containing abusive and obscene language, personal attacks of any kind or promotion will be removed and the user banned. Final decision will be at the discretion of the Taipei Times.