Academic warns of pitfalls of tourism policy
With the implementation of the FIT program for Chinese tourists on June 28, the government has said that the industry's profits could increase significantly. However, in an interview with "Liberty Times" (the "Taipei Times'" sister newspaper) reporter Jennifer Huang, Shih Hsin Univeristy associate professor Chen Chih-chi said that while the program could help spur economic benefits, the public might also have to shoulder more overhead costs and social risks
Liberty Times: What benefits and problems have there been since the government started allowing Chinese tourists to visit Taiwan in 2008? What changes could the free independent traveler (FIT) program bring?
Chen Chih-chi (陳墀吉): Any development of the tourism industry would have both positive and negative effects, and with the situation across the [Taiwan] Strait, the issue of Chinese tourists becomes even more complex.
Since the government first allowed Chinese tourist groups [to visit Taiwan] three years ago, we have had more than 2 million Chinese tourists pass through our borders. However, the economic gains generated by tourism are mostly reaped by well-connected businesses, those who know people [in the government], or those that the government has given a high evaluation.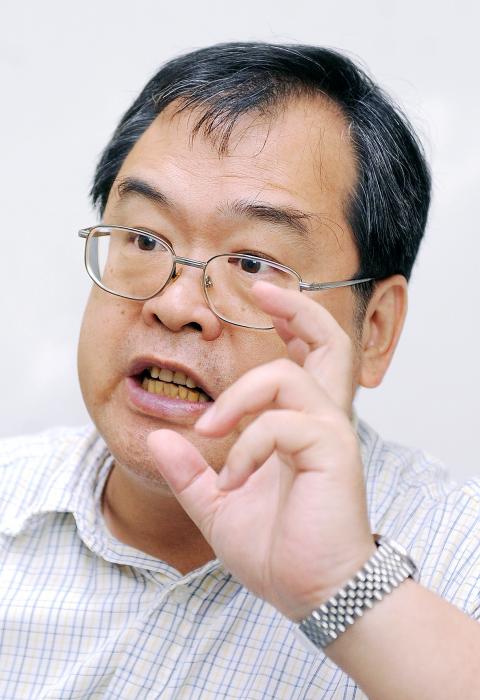 Shih Hsin University associate professor Chen Chih-chi is seen in this photo taken on June 22.
Photo: Liao Chen-huei, Taipei Times
Room and board are also concentrated within the pipelines of a few contracted businesses.
It is hoped that after the beginning of the FIT program, the money generated by the tourism industry can be more evenly spread to businesses both upstream and downstream, as well as horizontally across many other businesses.
For example, tour groups in the past were all fairly large in size and they mostly chose hotels and restaurants that were in the middle price range.
With the FIT program implemented, it is likely that more backpackers or high-end tourists will visit, and could choose either the cheaper or more expensive hotels and restaurants, bringing about a polarization of expenditure, [but also distributing wealth to more stores].
Another example is that tour groups in the past usually visited the more famous tourist sites, while the FIT program will let travelers make more in-depth tours and that will benefit a wider range of stores and businesses.
Tourists that opt for the FIT program may also rent their own cars during their trips or use public transport, so they won't have to use large tourist buses. Furthermore, banks [and insurance firms] would benefit as group tourists usually have a designated bank which does their banking, while FITs will likely use more banking locations, rather than just one designated place. The insurance industry would also benefit as while tour groups usually buy travel insurance, FITs might opt to buy additional types of insurance.
LT: Taiwanese travel agencies have complained about low tour group fees and not being able to make any money. Some indicate that the industry is owed up to NT$5 billion (US$173 million) by Chinese travel agencies. Can you comment on this?
Chen: The Taiwanese tourism industry has long since entered the "low income" era, as most tour group incomes gross less than 5 percent. Chinese tour group fees have also dropped from US$80 in the past to a current price of US$60, with some firms going so far as to slash group fees to US$20. Besides, when Chinese tourists come to Taiwan, they are required to go through Chinese travel agencies to form tour groups, so the group fees are actually controlled by the other side, and it's common for them to be late in payment.
That said, there are several hidden income sources in the tourism industry, such as tips and commission fees, which have led to the appearance of many shopping groups, and as a result, several tourism-related disputes.
And if a Chinese tourist "jumps the boat" [stays illegally in Taiwan], the security deposit paid by the Taiwanese tourist industry is confiscated by the government. In comparison, Chinese travel agencies confiscate the security deposit paid by the Chinese tourist, which places Taiwanese travel agencies at a higher risk and can therefore lower their profits.
LT: Two years before Chinese tourists were allowed to tour Taiwan, the cost of domestic travel for Taiwanese had increased by almost 20 percent. In response to the policy that allowed Chinese tourists into Taiwan, more than 200 hotels were remodeled, built or invested in, with the investment amounting to NT$120 billion. Maybe some of the businesses profited, but Taiwanese and society as a whole have paid greater social costs.
Chen: Travel agencies have recently complained about the security deposits and the punishment they have to suffer if a Chinese tourist jumps the boat, even going so far as to call for the government to take its share of responsibility for handing out tourist permits.
It is a reasonable demand, because if a Chinese tourist detours from their schedule and ends up staying illegally in Taiwan, or is in possession of contraband, such as narcotics and firearms that lead to criminal events, it is something that the nation's citizens have to bear, and the government also needs to bear some responsibility.
If Chinese FITs become illegal workers, the chances of Taiwanese workers getting a job would deteriorate and their wages would be further reduced. Currently, the Tourism Bureau estimates that the chance of a FIT remaining illegally in Taiwan stands at 0.00003 -percent, but the probability of Chinese tourists jumping the boat in Japan is 0.0009 percent. The illegal immigration [of Chinese] into the US each year stands at 40,000 persons.
Because the appearance and language of the Chinese tourists are similar to Taiwanese, there is a need to be careful. Also, the government's recent calls for agencies and businesses to refrain from over-using simplified Chinese characters is one of the foreseeable culture shocks in the future.
LT: The government keeps saying that the number of Chinese tourists visiting Taiwan each year is as high as 1,600,000 people, but they don't mention that Taiwanese visitors to China exceed 5 million people each year, while our foreign exchange expenses on tourism exceed NT$170 billion. This shows that China has profited more from the opening of cross-strait tourism. How should Taiwan set its tourism policies to achieve a more dynamic industry, while safeguarding both foreign and domestic interests and development?
Chen: On the whole, Taiwan's international tourism marketing does not seem to be having an obvious effect on European and US travelers. Rather, it is having more of an effect in Asia. Last year, the most significant growth in international tourists was from Malaysia, while there was also an increase in Thai, South Korean and Japanese tourists.
Not putting all the proverbial eggs in the same basket is [good and] simple reasoning.
The main point is, what is Taiwan's tourism policy? While we want to develop the tourism sector, we also want the nation's development to be well-rounded. Hong Kong's tourism policy, for example, is very clear [in what it is promoting]; with a lack of natural scenery, it has placed its emphasis on shopping and food.
China, [on the other hand], because it has [comparatively more] dynamic scenery, also has a higher rate of return tourists.
International tourists [coming to Taiwan], including Chinese, often favor Taroko (太魯閣) [National Park] and Alishan (阿里山) [National Park], which are indeed two of the more spectacular scenic sites in Taiwan.
However, national parks aren't the same as zoos and theme parks, [and a good question to ask is] do we prioritize [wildlife] preservation, or tourism? There have been numerous accidents where falling stones [have injured] Chinese tourists in Taroko Gorge and there have also been other accidents at famous tourist sites, such as Alishan.
The government should start thinking about what the load limit for Taiwan's tourism sector is in terms of general national land [policies] and national development. [Only] with a clear tourism policy can travel agencies have something to go by, as well as take care of both tourists and the national environment. Then no one would be panicked and do the wrong thing.
Despite the [potential] profit from tourism, it is also worth noting where that profit goes. Everyone expects that the Chinese FITs would result in tourist dollars going to more people, but there is still some way to go for it to become a generalized public economy. Whether Taiwanese, who are paying the social and environmental cost, are able to benefit from the returns generated by tourism is also the challenge as to whether the tourism policy is able to last.
TRANSLATED BY JAKE CHUNG, STAFF WRITER
Comments will be moderated. Keep comments relevant to the article. Remarks containing abusive and obscene language, personal attacks of any kind or promotion will be removed and the user banned. Final decision will be at the discretion of the Taipei Times.