Contract awarded for first four Black Hawk helicopters
Sikorsky Aircraft Corp was awarded a US$48.6 million firm-fixed-price contract for the procurement of four "green" UH-60M Black Hawk helicopters to Taiwan, the US Department of Defense announced last week.
Work will be performed at the Sikorsky plant in Stratford, Connecticut, with an estimated -completion date of May 30, 2013, said the release, issued on Thursday.
The four "green" helicopters — a term referring to initial assembly of a standard platform before customer add-ons are requested — are part of the 60 Black Hawk utility helicopters included in the US$6.4 billion Foreign Military Sale (FMS) notified to US Congress in January last year.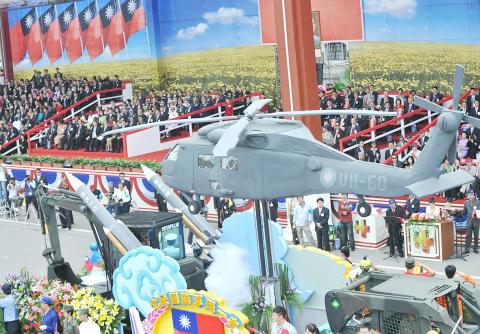 A float from the Ministry of Defense features models of a UH-60 Black Hawk helicopter and missiles during a Double Ten National Day parade in Taipei on Oct. 10 last year.
PHOTO: AFP
The estimated total cost for all 60 helicopters is US$3.1 billion.
The package includes a request for radar warning receivers, infrared countermeasure sets, missile-warning systems, laser-detecting sets, spare engines, machine gun systems, aviator night vision goggles and communication/data link systems for Taiwan's "Po-Sheng" C4ISR (command, control, communications, computers, intelligence, surveillance and -reconnaissance) architecture.
Once integrated into the armed forces, the Black Hawks will replace its aging fleet of UH-1H Huey helicopters and serve a series of functions, including personnel movement, cargo lifting and medical evacuation, as well as defense of vital installations and close air support for ground forces.
The UH-60M is the US Army's primary multi-mission helicopter.
Comments will be moderated. Keep comments relevant to the article. Remarks containing abusive and obscene language, personal attacks of any kind or promotion will be removed and the user banned. Final decision will be at the discretion of the Taipei Times.