Global participation to be expanded 'within a year'
Taiwan could achieve "meaningful participation" in the UN Framework Convention on Climate Change (UNFCCC) and International Civil Aviation Organization (ICAO) within a year, Deputy Minister of Foreign Affairs Shen Lyn-shun (沈呂巡) said yesterday.
Taiwan formally declared its desire to participate in the ICAO and the UNFCCC in September 2009, though a formal request has yet to be made.
Answering a question from Chinese Nationalist Party (KMT) Legislator Justin Chou (周守訓) at the legislature's Foreign and Defense Committee, Shen said that while Taiwan was moving toward its goal "inch by inch," success "would come within a year."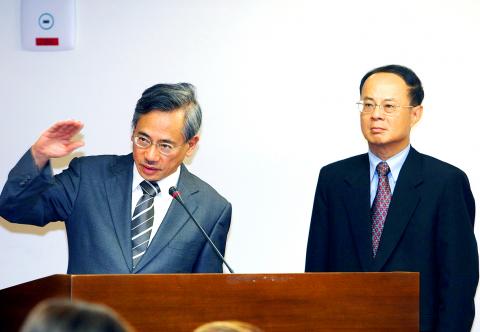 Department of Health Minister Chiu Wen-ta, left, answers opposition legislators' questions about Taiwan's protest at the WHA meeting during a question-and-answer session at the legislature yesterday.
Photo: CNA
"Actually it's happening right now. We are now able to attend side-events at the UNFCCC meeting," he said.
Briefing the committee on the nation's participation at the 64th session of the WHA in Geneva last week, Shen said that although the government was not entirely satisfied with the arrangements by which Taiwan took part, it was "sort of acceptable."
The government plans to seek participation in more international organizations using the same model, Shen said.
The WHA model entails participation in international organizations under the name "Chinese Taipei" in the capacity of an "observer at the government level," Shen said.
In this way the nation is represented by ministerial level officials and attends events at the highest level of the organizations, he said.
The WHA model marked the first time the nation was allowed to participate in a UN agency using the name "Chinese Taipei" since 1971, Shen said.
"Chinese Taipei" stands for "Republic of China [ROC], Taipei," Shen said, adding that the use of Taipei rather than "Taibei," as it is written by Beijing, clearly showed it stood for the ROC and not the People's Republic of China.
Asked by KMT Legislator Chang Hsien-yao (張顯耀) to comment on the possible use of a "two China" approach when participating in international organizations, as suggested by former American Institute in Taiwan chairman Richard Bush, Shen said: "It would be difficult to apply 'dual representation' now, but what we can do is follow the WHA model."
However, some legislators said they were not entirely satisfied with the delegation's performance at the WHA and said the "WHA model" denigrated Taiwan's sovereignty.
KMT Legislator Hsu Shu-po (許舒博) asked when the Ministry of Foreign Affairs first became aware of an internal WHO memo, leaked earlier this month, that instructed staff at the global health body to refer to Taiwan as a "province of China."
"If it knew years ago, what measures were taken, when was the president informed, and why wasn't the information made public?" Hsu asked.
Shen declined to answer.
"I'm sorry, but it's not convenient for me to provide such details here," he said.
Unhappy with Shen's reply, Hsu banged the desk with his hand and said that if the ministry refused to share "confidential" information with the legislature, it should respond to the public directly.
In addition, he asked why Taiwan's delegates at the WHA did not make public the protest letter by placing copies of it on the desks of other nations.
Defending the delegation's efforts, Department of Health Minister Chiu Wen-ta (邱文達) said he had strongly protested by using the phrases "utmost dissatisfaction" and "strongly protest," which "were probably the strongest words I have ever used."
Lawmakers said there was a difference between what one person considered a strong protest and how it was perceived by others.
Holding a copy of the protest letter handed by Chiu to the WHO Secretariat last week, DPP legislator Huang Sue-ying (黃淑英) said: "They didn't even dare to use an official letter heading because they were afraid it would offend China," adding that only the word "health" appeared in the heading, while the nation's name was not mentioned even once.
Such a protest was "soft and weak," Huang said.
"If Taiwan were to attend international meetings in such a manner, it would be like being China's 'concubine,' because we would only be able to appear with its consent," DPP Legislator Tien Chiu-chin (田秋堇) said.
Comments will be moderated. Keep comments relevant to the article. Remarks containing abusive and obscene language, personal attacks of any kind or promotion will be removed and the user banned. Final decision will be at the discretion of the Taipei Times.