MA YING-JEOU — THREE YEARS: Aboriginal activists criticize president
Several Aboriginal rights advocates yesterday lashed out at President Ma Ying-jeou (馬英九) for not keeping his promise to implement Aboriginal autonomy, for delaying reconstruction for victims of Typhoon Morakot and for his government's inability to root out ethnic discrimination.
"Ma has been in power for three years now, and for us Aborigines, the past three years have been three years of suffering," Icyang Parod, director of the Democratic Progressive Party's (DPP) Department of Aboriginal Affairs, told a press conference in Taipei.
"Aboriginal autonomy has not become a reality as Ma promised during the presidential campaign, ethnic discrimination against Aborigines remains and victims of Typhoon Morakot are still homeless," Icyang said.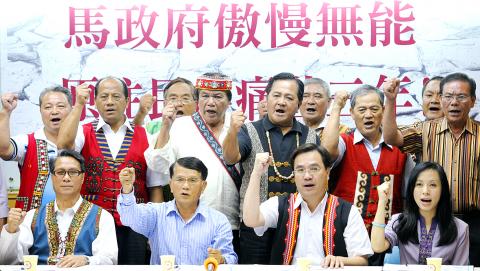 Indigenous peoples' representatives protest at a press conference in Taipei yesterday against a Chinese Nationalist Party (KMT) member who said that most Aborigines are "mongrels."
Photo: George Tsorng, Taipei Times
By discrimination, Icyang was referring to the recent controversy sparked by former Chinese Nationalist Party (KMT) Central Standing Committee member Liao Wan-lung's (廖萬隆) suggestion to a Central Standing Committee meeting that intermarriage between Aborigines and non-Aborigines be discouraged to maintain the "purity" of Aboriginal blood. Liao caused more outrage when he tried to clarify his remark by later telling reporters that most Aborigines are "mongrels."
Aborgines were also upset in March by a Mainland Affairs Council-sponsored TV ad that referred to them as pa-nga, an Amis word for penis or "loose women."
Taiwan Aboriginal Society president Tibusungu'e Vayayana said Ma's administraion failed to respect Aboriginal rights to the environment and to autonomy. He also complained about the government's slow progress in reconstruction of mostly Aboriginal regions devastated by Morakot.
In Alishan Township (阿里山), Chiayi County, where he comes from, "23 bridges were damaged during the storm and only one was rebuilt — by a non-governmental organization," he said.
Government officials had promised to allocate government land for reconstruction projects, but "when the reconstruction process really started, the government unilaterally changed its mind and decided to take private land for reconstruction instead, without having discussed it with us," he said.
"The government under Ma's leadership is a disaster just like Morakot, only it's one that's been around for three years," he said.
Hsu Cheng-wan (徐成丸), a chieftain of the Sakiraya tribe in Hualien County, said he voted for Ma in 2008, but "I would say that we should stand united and boycott Ma in the next election."
Comments will be moderated. Keep comments relevant to the article. Remarks containing abusive and obscene language, personal attacks of any kind or promotion will be removed and the user banned. Final decision will be at the discretion of the Taipei Times.