Better water management policy needed: PCC boss
The threat of water shortages in the country is "thousands of times more serious" than that of radiation leaks or toxic waste from petrochemical plants, Public Construction Commission (PCC) Chairman Lee Hong-yuan (李鴻源) said yesterday.
Water resource management in Taiwan is poor because the government focuses on building more reservoirs as a short-term option instead of addressing a sustainable and balanced development plan for renewable resources, Lee told a seminar on water control held by the Yu Chi-Chung Cultural and Educational Foundation.
The foundation said more than 75 percent of Taiwan's annual collected rainfall of 90 billion tonnes evaporates in storage or is lost in the supply process.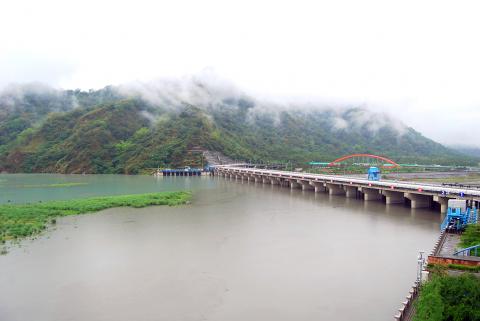 A large amount of water is seen yesterday upstream of the Jiji Weir on the Jhuoshuei River in Linwei Village, Nantou County, after several days of rain.
Photo: Chen Hsin-jen, Taipei Times
Lee said the water shortage problems can largely be attributed to increasing reservoir sedimentation, poorly maintained pipelines and careless usage by consumers, who have long enjoyed very low water costs.
A 2004 survey by the Taiwan Water Corp found the average water rate in Taiwan was NT$10.72 per cubic meter, compared with NT$65 in Japan and NT$19.3 in the US.
Lee said there needed to be more coordination among the Water Resources Agency, the Council of Agriculture and the Construction and Planning Agency to allocate water management budgets more efficiently as well as set a reasonable price for water.
Lack of rain earlier this year has led to water restrictions in several areas. A plan to impose a second stage of water rationing in select areas at the end of this month was postponed on Monday in the wake of heavy rains in the past week.
The Ministry of Economic Affairs said it would wait to see how much more rain falls this week before deciding whether to impose further water rationing next month. Southern Taiwan, which has collected 17 million cubic meters of water since last Friday, will still faces shortages during the peak June-to-November rice planting season if it does not receive more rain, the ministry said.
Noting the recent protests by environmentalists against Taiwan's nuclear power and petrochemical industries, Lee said similar action needs to be taken to push the government to tackle the water issue.
"We can't expect the rain to fall every time we find ourselves short of water, " Lee said. "We need a policy that has vision."
Comments will be moderated. Keep comments relevant to the article. Remarks containing abusive and obscene language, personal attacks of any kind or promotion will be removed and the user banned. Final decision will be at the discretion of the Taipei Times.