Memorial park honoring Japanese engineer opens
CONTRIBUTIONS: Yoichi Hatta designed and built an irrigation system and reservoir in southern Taiwan that turned the formerly barren plains into a granary
A memorial park in honor of a Japanese civil engineer who made major contributions to Taiwan's agricultural development was formally opened on Sunday.
President Ma Ying-jeou (馬英九) and former Japanese prime minister Yoshiro Mori were among the dignitaries on hand to witness the opening of the Yoichi Hatta Memorial Park near the Wushantou Reservoir (烏山頭水庫), part of the sprawling Siraya National Scenic Area in Greater Tainan.
Speaking at the ceremony, Ma said Hatta (1886-1942) designed and built the Jianan Irrigation Waterways and the Wushantou Reservoir from 1920 through 1930, helping turn the formerly barren Jianan Plain into Taiwan's granary.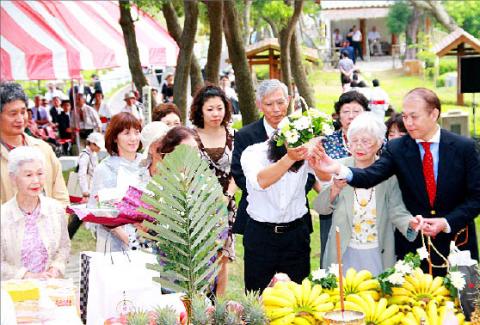 Several family members of the late Japanese civil engineer Yoichi Hatta attend a memorial event near the Wushantou Reservoir in Greater Tainan on Sunday afternoon. The event was organized by the Jianan Irrigation Association.
Photo: CNA
During Japanese colonial rule, Taiwan served as an agricultural base to supply food to Japan's population while its raw materials supported Japan's industrial development, he said.
BENEFICIARIES
However, Hatta felt that the water management projects would not only benefit Japan, but also Taiwan, Ma said.
Hatta is revered and commemorated by farmers in southern Taiwan, where his irrigation system, covering 10,000km of waterways, has played a major role in watering 150,000 hectares of farmland in Tainan and Chiayi since 1930, when the Wushantou Reservoir was completed, Ma said.
The park was planned four years ago, Ma said, when he visited the former residence of the engineer and his wife at the reservoir.
Ma felt the nation had not shown enough respect to the late civil engineer, prompting him to order the building of the memorial park.
Mori, who led a 300-member Japanese delegation at the ceremony, said Hatta was not very well known in Japan, except in Ishikawa Prefecture, where he was born in February 1886.
Nonetheless, the former prime minister said he felt very proud to be a countryman of Hatta, who is so highly revered in Taiwan.
"I hope this memorial park will serve as a bridge to enhance bilateral exchanges between Japan and Taiwan," he said.
RESTORATION
Tourism Bureau Director-General Janice Lai (賴瑟珍) said every effort was made to capture the essence of the old Japanese buildings restored on the site.
She said the team that renovated Hatta's dorm and three other nearby buildings visited Japan several times to learn traditional construction techniques so that the restoration would be as authentic as possible.
The team completed the memorial park in less than 600 working days on a budget of NT$120 million (US$4.14 million), Lai said.
Comments will be moderated. Keep comments relevant to the article. Remarks containing abusive and obscene language, personal attacks of any kind or promotion will be removed and the user banned. Final decision will be at the discretion of the Taipei Times.