Taiwan gives most in world to Japan
CHARITABLE FRIENDS: Although Taiwan collected more than ¥11 billion, some of the world's poorest nations have also contributed to the relief efforts
Taiwan has donated more money to earthquake-stricken Japan than any other country or region in the world, surprising the Japanese and making them realize that Taiwanese are true friends, a Japanese magazine reported in its latest issue.
The Shukan Shincho, a weekly magazine issued every Thursday, also ran a photo showing President Ma Ying-jeou (馬英九) soliciting donations for Japan on TV.
The report said more than 130 countries and regions have come to the aid of Japan in the wake of the March 11 earthquake and tsunami, such as the US, which has not only donated money, but also mobilized about 18,000 soldiers for assistance.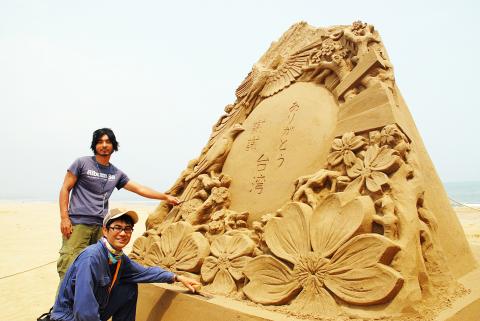 A Japanese artist stands next to a sand sculpture he made to thank Taiwanese for their donations to quake-stricken Japan, at a beach in New Taipei City yesterday.
Photo: Wu Liang-yi, Taipei Times
In addition, Afghanistan, one of the poorest countries in the world, has donated ¥82 million (US$1 million), and many relatively poor countries in Africa, such as Sudan, had also contributed funds.
SURPRISED
However, what surprised the Japanese the most was the helping hand extended by Taiwan, the report said.
Taiwan has sent a rescue team and relief goods, and as of April 1, its Red Cross Society had solicited ¥10.99 billion in donations, up to 90 percent of which came from private donors.
Though it has a population of only 23 million, Taiwan has donated even more than the US, the report said.
PAST ACTIONS
The reports also cited a Japanese reporter stationed in Taiwan who said Taiwanesee had not forgotten the goodwill shown by Japan in the wake of Taiwan's devastating on Sept. 21, 1999 earthquake that left more than 2,000 people dead.
Japan sent a 145-member rescue team and donated NT$1.1 billion (US$37 million) in funds to Taiwan after that natural disaster.
The magazine also cited diplomatic commentator Masahiro Miyazake's observation that Japan's pro-China political figures and media have not treated Taiwan well.
Even former President Lee Teng-hui (李登輝) sent encouraging messages to quake-affected victims, but pro-China media has barely acknowledged Taiwan's support, he said, observing that true friends are those who are there in difficult times.
APPRECIATION
Meanwhile, Japanese travel agency H.I.S. Co also ran a full-page ad in the largest-circulated newspaper Yomiuri Shimbun to express appreciation to Taiwan.
The ad said Taiwan sent a rescue team and relief goods, and the Red Cross Society had collected ¥11.01 billion as of Tuesday.
Comments will be moderated. Keep comments relevant to the article. Remarks containing abusive and obscene language, personal attacks of any kind or promotion will be removed and the user banned. Final decision will be at the discretion of the Taipei Times.