Chinese aircraft carrier nears completion
After nearly nine years of refurbishing work, China's first aircraft carrier — a platform that could add to Taiwan's defense concerns — could soon embark on its maiden voyage, Chinese media reported last week.
Work on the Varyag, a refurbished carrier purchased from Ukraine in 1998 for about US$20 million, was near completion and the hull was being painted in the standard Chinese naval color, a Web site associated with the state-run People's Daily newspaper reported last Wednesday.
Seen as one of Chinese President Hu Jintao's (胡錦濤) last accomplishments before he steps down next year, the aircraft carrier could take to sea as early as July 1, reports said.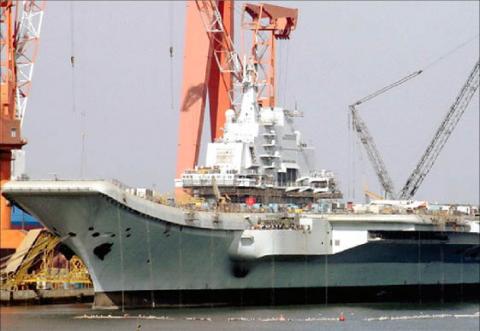 China's first aircraft carrier is pictured last Wednesday. Chinese media last week reported that the carrier could soon embark on its maiden voyage.
File Photo: Lo Tien-bin, Taipei Times
Expected to be renamed "Shi Lang," after the Qing Dynasty admiral who conquered what is now known as Taiwan in 1681, the carrier has been undergoing modernization work at the port of Dalian since 2002. Although the hull was built in 1988 by the former Soviet Union, the vessel acquired by China did not include the electronic circuits, radars, antennas, engines or other devices.
A report by UK-based Jane's Defence Weekly on Friday said the carrier would come equipped with phased array radars and surface-to-air missiles, making it a more independent platform than its US equivalent, which is dependent on Aegis-type guided missile cruisers for protection.
Commenting on the reports, Lan Ning-li (蘭寧利), a retired vice admiral in the Republic of China Navy, told the Central News Agency last week that after being assigned to the People's Liberation Army (PLA) Navy fleet in the South China Sea fleet, the carrier would be in a position to move in areas surrounding southern and eastern Taiwan, a scenario that would pose "a certain threat" to the country.
Even if Taiwanese vessels could block entry from the north and south sides of the Taiwan Strait, the "Shi Lang" would still allow China to expand its naval activities eastward into the Pacific, he said.
"That will make Taiwan vulnerable to enemy attacks at sea from both front and rear," Lan said.
Despite reports that refurbishing work had entered its final phase, many of the sophisticated electronics on the carrier likely had yet to be installed, Lan said.
A picture provided by the People's Daily showed the large bridge, minus the phased array radar, nearing completion.
The 302m long and 70.5m wide carrier, which comes with a loaded displacement of 67,000 tonnes and a speed of between 29 knots and 31 knots, can host as many as 50 aircraft of various types — possibly including Russian-made SU-33 and carrier-modified, Chinese-made J-10, as well as anti-submarine -helicopters and early-warning helicopters.
As Chinese pilots have no experience taking off from and landing aircraft on carriers, it could be a while before the impact on regional security of the deployment of the "Shi Lang" is truly felt.
Comments will be moderated. Keep comments relevant to the article. Remarks containing abusive and obscene language, personal attacks of any kind or promotion will be removed and the user banned. Final decision will be at the discretion of the Taipei Times.