Pingtung tuna to be scanned for radiation
The commissioner for Pingtung County has tried to allay fears of radiation-tainted tuna by promising to put this year's catch through radiation scans before it goes on the market.
Known for its ocean fishing industry, Pingtung County will begin its annual bluefin tuna season next month, but county residents have worried that radiation leaks from Japan have spread to Taiwan's fishing grounds.
Pingtung County Commissioner Tsao Chi-hung (曹啟鴻) assured the public at a press conference on Wednesday that radiation would not affect the tuna because Pingtung's vessels catch fish that arrive in Taiwan first before heading north to Japan.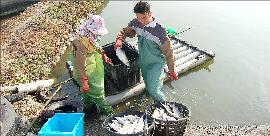 Fishermen examine fish on the coast of Yunlin County yesterday.
Photo: Chen Tsan-kun, Taipei Times
"Bluefin tuna from the northern Pacific Ocean travel south from Canada to Guam first, then to the Philippines and Taiwan before turning north to Japan," he said.
"Only those that are not caught by our fishing boats operating between Taiwan and the Philippines would have a chance to travel near Japan," Tsao said.
As a result, he believes his fishing boats will not catch any tainted tuna this year.
Nevertheless, Tsao said he wanted to alleviate public fears and would ask the Atomic Energy Council to dispatch its inspectors to the county to conduct radiation checks on the tuna catch.
At the press conference, Tsao also announced the county government would launch a safety drill aimed at preparing the county for multiple disasters. The drill will take place on April 18 and April 19.
He said that Pingtung, where the Ma-anshan (馬鞍山) Nuclear Power Plant is located, does not have enough experience in handling a nuclear crisis such as the one Japan currently faces.
Comments will be moderated. Keep comments relevant to the article. Remarks containing abusive and obscene language, personal attacks of any kind or promotion will be removed and the user banned. Final decision will be at the discretion of the Taipei Times.