Parrot fever case confirmed: CDC
DOING WELL: Health authorities said a man's pet bird was a probable source of his infection, the first confirmed case in the nation since 2008
The Centers for Disease Control (CDC) yesterday announced this year's first confirmed case of psittacosis (parrot fever) in the nation.
The patient is a 44-year-old man living in the central part of the country. He began to display symptoms of headache, fever, chills, body sores and coughing on Jan. 1, the centers said. The hospital reported the case to the centers on Jan. 11, and multiple tests of the man's blood samples confirmed on Friday that he had been suffering from parrot fever.
The man has returned home after treatment and is recovering well, the centers said.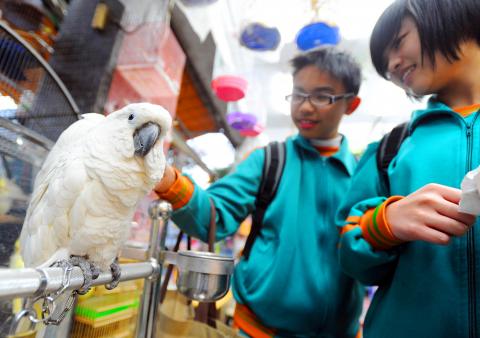 Children look at a parrot in a pet shop in Taipei yesterday. The Centers for Disease Control yesterday reported a man in central Taiwan had contracted psittacosis, or parrot fever, early last month and has since recovered.
Photo: Wang Yi-sung, Taipei Times
Health officials said the man's pet bird was a probable source of the infection.
Parrot fever is caused by the Chlamydophila psittaci bacterium, which is carried by many species of birds, including parrots, macaws, small cockatoos, ducks and pigeons.
The incubation period of parrot fever ranges from five to 28 days, during which a person can display symptoms such as headache, fever, chills, muscle pains and coughing. The death rate for parrot fever is less than 1 percent, the centers said.
While the disease can be passed from human to human, such transmission is very rare. It is usually spread by exposure to infected birds at home, pet stores, pigeon stalls and other locations where birds are kept or displayed, health officials said. Dry excrement is the principal cause of infection.
The last confirmed parrot fever case in Taiwan was in 2008, and the victim then also had a history of contact with birds.
Psittacosis was first reported in Europe in 1879.
However, an outbreak in the US in 1929 was largely responsible for the creation of the US National Institutes of Health. From 2002 until 2009, a total of 66 cases of parrot fever were reported in the US.
Health authorities said that even birds that appear to be healthy can be carriers of the bacterium and can infect humans.
Those who take care of birds should wear facemasks and gloves when cleaning out birdcages, and should wash their hands thoroughly after touching birds.
ADDITIONAL REPORTING BY STAFF WRITER
Comments will be moderated. Keep comments relevant to the article. Remarks containing abusive and obscene language, personal attacks of any kind or promotion will be removed and the user banned. Final decision will be at the discretion of the Taipei Times.