Human Rights Day: INTERVIEW: Jigme Norbu walks the long road to Tibet's independence
Having walked more than 11,000km around the world to promote freedom, human rights and independence for Tibet, the Dalai Lama's nephew Jigme Norbu began his first "Walk for Tibet" campaign in Asia yesterday in Taipei, and will walk more than 400km to Kaohsiung in 13 days.
"We [Tibetans and Taiwanese] are in the same situation, we should help each other, and we come here to seek help," Norbu said in an interview with the Taipei Times in Taipei on Thursday. "China is right next door, and maybe they can take over Taiwan one day just like they did in Tibet, we need to let the world know that we need to stop China's illegal occupation of other countries."
It wasn't his idea to advocate for Tibet through long-distance walks. It was, in fact, his father Thupten Jigme Norbu — the eldest brother of the Dalai Lama — who first initiated the walking campaign to raise public awareness of the Tibet issue.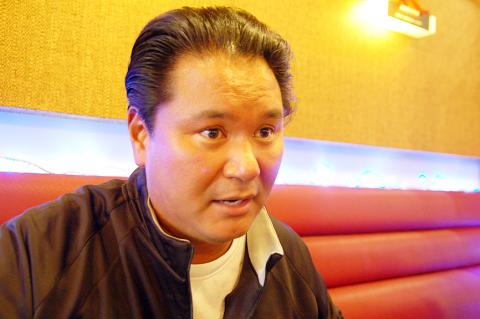 Jigme Norbu addresses the media on -Thursday.
PHOTO: HSIEH WEN-HWA, TAIPEI TIMES
"One thing I wanted to definitely say is that it's because of my father I'm doing what I am doing, Norbu said. "My father spent his whole life standing up for Tibet's independence, he traveled all over the world for Tibet."
Following his father on his travels and walks, seeing what his father did and hearing stories of Tibetans all over the world, Norbu said he feels it's his responsibility to carry on the mission of his father — who passed away in 2008 — "for the 6 million Tibetans, for the 1.2 million Tibetans who lost their lives standing up for Tibet and for Tibetans who continue to struggle and sacrifice for freedom and human rights in Tibet."
Born and raised in the US, Norbu said he still — just like most other Tibetans living abroad — retains a very strong Tibetan identity, because of Tibetan stories passed on from generation to generation, the continuous protests of Tibetans both inside and outside of Tibet, and the Tibetan culture and language that have been well-preserved, even in exile.
Norbu said the Tibetan identity was so strong that even brainwashing attempts by the Chinese government could not shake it.
"In 1980, my father and I were officially invited by China to tour around Tibet, because China tried to convince us China had changed Tibet and Tibetans are happy and are living better," Norbu said. "Unfortunately, for them, we knew it wasn't true, it's all lies, people are not happy."
Such discontent, Norbu said, is expressed through protests by Tibetans, including monks, such as the ones that occurred in 2008.
Walking for a cause, Norbu said, not only allows him to learn a lot and find encouragement, but it also gives him opportunities to give encouragement to other Tibetans.
"During my walks, a lot of Americans — who may be truckers or country people, and who may support the Tibetan cause or not — would come out to shake my hand, they would give us sandwiches and coca-colas, or even invited us to dinner," Norbu said. "They would say: 'Wow, so you're the guy who's walking so many miles because you believe in something.'"
Each time he walked, Norbu would try to pass through Tibetan communities, and every time they walked through Tibetan communities, they could feel the strong support from fellow Tibetans.
"We get encouraged, but we also try to re-energize younger generation Tibetans — we tell them not to forget where they come from, not to forget what happened to Tibetans, not to forget the 6 million Tibetan brothers and sisters, and not to forget what happened to their fathers and forefathers," he said.
Although both he and his father insist on pursuing independence for Tibet, Norbu said he respected the exiled government's position of following the middle-way approach to the Tibet issue — meaning that the exiled government seeks authentic autonomy for Tibet instead of independence.
"I respect their view point, but my path is strictly independent. I respect their decision, and they should respect my decision as well," Norbu said. "The issue is not whether [to choose] middle way or independence, but we need to act."
Saying that Tibetans were "tricked" by the Chinese 60 years ago because they were too naive, Norbu said Tibetans are knowledgeable enough nowadays not to allow it to happen again.
He also suggested Taiwanese should try to gain more support in the world — especially from peoples who are also threatened by China — to build up international support to resist threats from China.
Asked how he feels being the nephew of the Dalai Lama, Norbu said that he generally regards the Dalai Lama as a religious and political leader for all Tibetans, and only thinks of him as his uncle secondarily.
However, he recalled some unforgettable moments with the spiritual leader — as an uncle — when he lived as a child in Dharamsala, India, the seat of the Tibetan government in exile, in the 1970s.
"At the time, my family lived with my grandma — His Holiness' mother — in Dharamsala, and every Sunday, His Holiness would come for lunch," Norbu recalled. "I was a little boy at the time, I didn't know much formality, I saw him [the Dalai Lama] just as a monk because of the outfit, I played with him."
"For me, at the time, he was just an uncle, and we were just like any other nephew and uncle," he said.
Norbu also remembered when one year, the entire family gathered and had lunch with the Dalai Lama for his birthday: "Everyone was there, the elders — including the Dalai Lama — talked about [what happened] when they were younger. I was very happy to be there and to listen to all those stories, it was fun."
Norbu's Walk for Tibet campaign in Taiwan began at 9am in front of Longshan Temple (龍山寺) in Taipei yesterday, and he welcomes anyone who is interested to join him along the way. A detailed itinerary with maps can be found on walk4tibet.blogspot.com.
Comments will be moderated. Keep comments relevant to the article. Remarks containing abusive and obscene language, personal attacks of any kind or promotion will be removed and the user banned. Final decision will be at the discretion of the Taipei Times.