KMT elects central committee members
The Chinese Nationalist Party (KMT) yesterday elected 32 Central Standing Committee (CSC) members, calling back several former members who had their election status revoked last year because of bribery claims.
Lee Chuan-chiao (李全教), one of those who lost his election status as a CSC member last year because of election bribery, received 1,079 votes and topped the election list.
He had denied the bribery accusations and filed a lawsuit against the KMT last year for annulling his election status, and won the lawsuit earlier this year.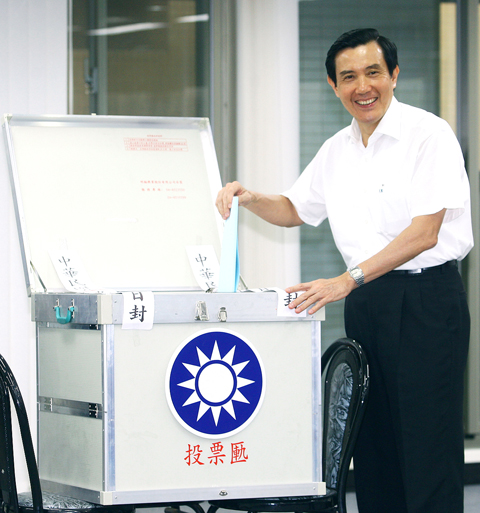 President and Chinese Nationalist Party (KMT) Chairman Ma Ying-jeou votes in the party's central standing committee election at the party's headquarters in Taipei yesterday.
PHOTO: CNA
Lee will take over as a KMT legislator once the KMT revokes the party membership of former KMT legislator Hsu Shu-po (許舒博), who was found guilty earlier this month in a second trial of accepting bribes from the National Chinese Herbal Apothecary Association.
Yao Jiang-lin (姚江臨), who was one of 12 former CSC ­members whose election status were revoked by the KMT last year, received the third-highest number of votes with 1,040.
Two other former CSC members whose election status was revoked, Hsu Sen-rong (許顯榮) and Chen Wen-han (陳文漢), were also elected yesterday.
The majority of CSC members are KMT lawmakers, as a total of 13 KMT legislators, including Chiu Yi (邱毅), Chang Hsien-yao (張顯耀) and Hou Tsai-feng (侯彩鳳), won seats in the election yesterday.
KMT Legislator Wu Yu-sheng (吳育昇), a long-term aide to President Ma Ying-jeou (馬英九), failed to secure a seat in yesterday's election.
KMT's Kaohsiung mayoral candidate Huang Chao-hsun (黃昭順) and Sean Lien (連勝文), son of former KMT chairman Lien Chan (連戰), did not seek re-election this year.
In his capacity as KMT chairman, Ma yesterday cast a vote in the CSC election and said the vicious tradition of bribery in CSC elections had abated in this year's election.
Seeking to eliminate the bribery tradition and improve the image of the party, the KMT tightened regulations on CSC election campaigns in May and banned all kinds of bribery, including hosting banquets and sending gifts. Candidates who violate the regulations face losing their party membership.
Director of the KMT's Evaluation and Discipline Committee Juan Kang-meng (阮剛猛) said the committee found that no candidates were involved in bribing party delegates in this year's election campaign.
The CSC is the highest ­decision-making body in the KMT, and its 32 members meet every Wednesday to approve major policies. However, the committee's role was weakened after Ma was first elected party chairman in 2005 and began meeting with party officials to discuss major decisions in a separate weekly meeting.
All members will formally assume the positions next Wednesday.
Comments will be moderated. Keep comments relevant to the article. Remarks containing abusive and obscene language, personal attacks of any kind or promotion will be removed and the user banned. Final decision will be at the discretion of the Taipei Times.