ANALYSIS: Taiwan's debate on submarine expansion resurfaces
Amid mounting apprehensions surrounding the emergence of China as a major military power, defense experts continue to focus their attention on Washington's reluctance to sell Taipei advanced combat aircraft. A small group of military specialists, however, argues that another long-neglected system could prove a superior deterrent to Chinese aggression: submarines.
For almost a decade, the issue of submarines has been subject to the political vagaries of the triangular relationship between Taipei, Washington and Beijing, as well as disagreement over their utility and high cost. Mark Stokes, executive director at the Project 2049 Institute, is a strong proponent of submarines for Taiwan.
"The key thing about submarines is their inherent stealth and potential lethality," he told the Taipei Times. "They represent one of the few capabilities that would be difficult to take out in a first, disarming first strike, especially if on patrol."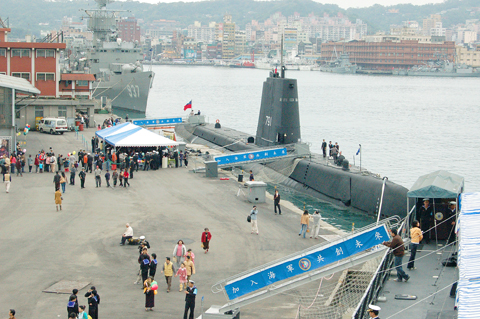 A US-built Guppy-class diesel-drive submarine is docked in Keelung Harbor on March 29, 2007. The submarine, built in 1944, was transferred to the Republic of China navy in 1973. It is now used for training purposes.
PHOTO: CHEN CHING-MIN, TAIPEI TIMES
According to most scenarios, a Chinese attack on Taiwan would open with missile salvos against Taiwan's military targets, including airfields and command-and-control centers.
Stokes' views dovetail with conclusions reached by former US Navy officer Bernard Cole, who wrote in Taiwan's Security, a study of the Taiwanese military, that "eight additional submarines would increase Taiwan's ability to conduct ASW [anti-submarine warfare], to conduct attacks on Chinese naval and merchant shipping, to conduct mining operations against [Chinese] harbors and perhaps most significantly, would introduce another element into the balance-of-forces equation with which China would have to deal."
Taiwan's navy currently has two operational submarines and two trainers.
While the effectiveness of anti-submarine and anti-surface warfare would largely depend on a cueing and sensor network, Stokes said, even for surveillance missions, subs could be very useful.
William Murray, a retired US Navy officer and associate professor at the US Naval War College, agrees, albeit with some reservations.
"I agree with [Stokes] that submarines are more likely than airfields to survive a Chinese bombardment, with the caveat that the submarines have to be at sea when the bombardment occurs. Yet I feel that this is an impractical solution, since not only is it very difficult [and expensive] to keep submarines at sea for extended periods of time, but China gets to choose when and if to attack, and so could choose to attack when most or nearly all of Taiwan's subs are in port," Murray said.
"It remains a matter of opinion as to whether Taiwan's intelligence organization would be able to provide adequate warning to allow ships and submarines to leave port before being destroyed in a bombardment," he said.
On their usefulness as hard-to-pinpoint launch platforms for missiles, Murray said: "Modern submarines are so quiet that when at sea, they are nearly impossible to find and destroy. That's true, but they can carry only a limited number of missiles and require a safe haven in which to reload," adding that land-based trucks, which can reposition and be refitted with missiles frequently, were a better alternative.
Submarines also suffer from a significant cost disadvantage, Murray said. In 2001, former US president George W. Bush's ­administration offered to provide eight diesel-electric submarines to Taiwan for about US$12 billion, or US$1.5 billion per vessel.
"A far greater number of specialized trucks and truck-launched land attack cruise missiles could be purchased for far less money," he said.
INERTIA
Just like the F-16C/Ds, the long-stalled submarine program has been the victim of the inertia that has characterized the US-Taiwan defense relationship in the past decade.
Visiting Washington earlier this year, Chinese Nationalist Party (KMT) Legislator Lin Yu-fang (林郁方) referred to US signals on arms sales as "murky," which many saw as an apt description of the situation.
While the comments by Lin, who has a long record of alternately criticizing and supporting arms requests, depending on who is in power, could be construed as reflecting the official line in Taipei, the only thing that has changed is the cast of characters, with President Ma Ying-jeou (馬英九) continuing former president Chen Shui-bian's (陳水扁) requests for aircraft and submarines, and US President Barack Obama replicating Bush's position of neither approving nor denying the requests.
Ironically, the KMT now finds itself in a position where it must defend its credibility. It long undermined the Chen administration when it sought the budgets to purchase weapons from the US, but now it would be hard-pressed to forgo arms requests on such items as the F-16s and submarines. The result is the continuation of the Chen policy, but one that could be described as half-hearted at best amid efforts at rapprochement with Beijing, which major arms purchases could derail.
"I see no reason to believe that the Ma administration has abandoned Taiwan's request for submarines," US-Taiwan Business Council president Rupert ­Hammond-­Chambers told the Taipei Times. "That said, it remains a low profile — not low priority — program, given the low level of interest in the US on following through on the April 2001 commitment to assist in procuring eight diesel-electric submarines."
Ironically, if Taipei found new reasons to reinvigorate its commitment to defense, the current impasse could actually turn into an opportunity.
"In April 2001, Beijing focused its tantrum on the possibility of the US releasing Aegis [a surface-based aerial defense system]. The Bush team deftly used the opening to put subs on the release list," he said. "Now we have a situation where China is focused on F-16s. While not probable, there is the possibility that it creates an opportunity to notify to [the US] Congress the submarine program if the F-16s are not released."
GOING DOMESTIC?
While Chen's initial request for eight diesel-electric submarines sought to work through the Pentagon's foreign military sales (FMS) channels, the legislature in 2002 told the administration that if Taiwan was not given a substantial role in the production of the submarines, it would not release the budget. As the Chen administration and the legislature bickered on the issue, the US Navy announced it would not allow any domestic role for Taiwan in the production of submarines.
In 2007, the legislature finally agreed to unfreeze the budget for an FMS submarine program in two phases — design/feasibility (phase one) and manufacturing (phase two) — but to this day, neither the Bush nor Obama administration ever notified Congress, leaving the project in limbo.
The option remains for Taiwan to explore domestic alternatives, perhaps jointly with other countries (Spain has been touted as a possible candidate). However, doubts remain as to whether anyone other than US has the wherewithal, let alone the will, to help Taiwan develop modern submarines.
Even then, such plans would face tremendous odds.
"To get the US to agree to assist Taiwan in the development of an indigenous sub program would be a huge effort, requiring cooperation with the Department of Defense, the Ministry of National Defense [MND], private industry and [possibly] a foreign government," Wendell Minnick, Asia bureau chief at Defense News, told the Taipei Times.
"This kind of cooperation is largely history. Taiwan took 10 years to build the KH-6 stealth missile patrol boat — and that's just a little boat with missiles on it. Imagine what it would take for a submarine, with infrastructure development and planning," he said.
Furthermore, while sub production "is almost certainly within Taiwan's industrial capability," it is "not likely to produce operating boats any more quickly than the seven to eight years required to acquire them from the United States," Cole wrote.
Minnick says there is currently little interest in domestic production.
"If you look at the attitude at the MND, it's not local development of weapons. It's the Costco express line with discount coupons," he said, adding that promotions in the Taiwanese military are largely predicated on successful arms acquisitions from the US.
In the end, whether Taiwan obtains submarines will be contingent on three things: Washington's willingness to cooperate — which could shift amid growing unease at Chinese military capabilities and naval projection — Taipei's assessment of the benefits of the costly weapons platform and the realization by the Ma administration that the growing military imbalance in the Taiwan Strait must be addressed. However, with Taiwan's national defense budget set at only 2.6 percent of GDP for next year — less than the 3 percent promised by Ma — doing so will be an immense challenge.
Also See: US-China showdown looming
Comments will be moderated. Keep comments relevant to the article. Remarks containing abusive and obscene language, personal attacks of any kind or promotion will be removed and the user banned. Final decision will be at the discretion of the Taipei Times.