Vendor flies to US to receive 'Time' award
'IT'S NOT A CONTEST'' So poor she could not finish elementary school, Chen Shu-chu has donated about NT$10 million to various causes over the years
Vegetable vendor Chen Shu-chu (陳樹菊) is heading to New York today to receive her award as one of the 100 most influential persons in the world in this year's Time magazine list, an official said yesterday.
Ministry of Foreign Affairs deputy spokesman James Chang (章計平) said consular affairs officials were working to process Chen's passport application.
"We will make it ready so that Chen can apply for a US visa on Monday," Chang said, adding that the ministry would help arrange for the paperwork to be completed in time for Chen's scheduled departure for New York later today.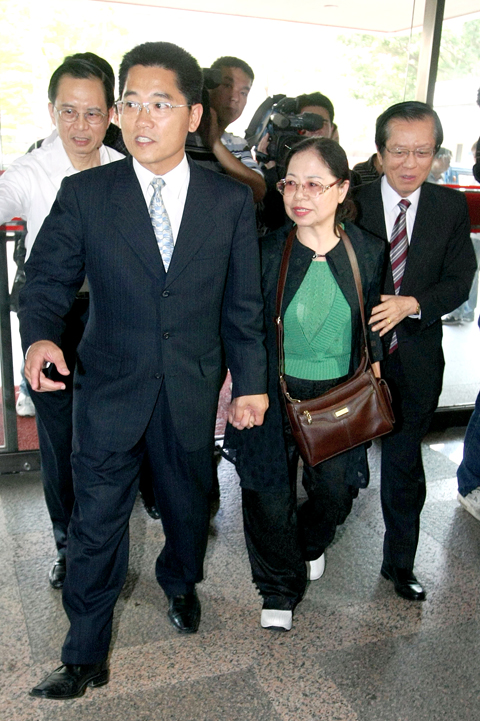 Chen Shu-chu, center, a vegetable vendor from Taitung who made Time magazine's list of the 100 most influential persons in the world because of her philanthropy, enters the Bureau of Consular Affairs accompanied by Taitung County Commissioner Justin Huang, left, and Minister of Foreign Affairs Timothy Yang, right, in Taipei yesterday to apply for a passport as part of her preparations to visit the US.
PHOTO: CNA
In addition to paying all her travel expenses, the ministry will assign staff to assist Chen throughout her trip, Chang said.
Minister of Foreign Affairs Timothy Yang (楊進添) accompanied Chen to the Bureau of Consular Affairs to help her receive a passport yesterday afternoon.
Ministry spokesman Henry Chen (陳銘政) said the government had communicated with the American Institute in Taiwan to make sure Chen would receive her visa immediately.
"Her receiving the award is an honor to Taiwan," Chen said.
Chen left Taitung yesterday for Taipei to catch a flight to New York later today.
She will receive her award tomorrow at the Lincoln Center in New York City.
This was only the second time the 61-year-old has visited Taipei. She visited the city earlier this year to receive medical treatment for a leg injury.
The vendor became one of the hottest conversation topics in Taiwan after she ranked eighth in the "heroes" category of this year's "Time 100" list.
"Out of her modest living, Chen, 59, has managed to donate nearly NT$10 million [US$320,000] to various causes, including US$32,000 for a children's fund, US$144,000 to help build a library at a school she attended and another US$32,000 for the local orphanage, where she also gives financial support to three children," the magazine said.
"What's so wonderful about Chen's achievement is not its ­extraordinariness, but that it is so simple and matter of fact in its generosity," states the citation in the magazine, which was written by New York-based Taiwanese film director Ang Lee (李安).
Chen, who was so poor she was unable to complete elementary school, told media that "money serves its purpose only when it is used for those who need it."
Last month, Chen was also selected by Forbes as one of 48 heroes of philanthropy from Asia.
When Chen first heard she had won an award, she seemed surprised and displayed humility by saying: "What is the prize for? It's not a contest!"
ADDITIONAL REPORTING BY CNA AND FLORA WANG
Comments will be moderated. Keep comments relevant to the article. Remarks containing abusive and obscene language, personal attacks of any kind or promotion will be removed and the user banned. Final decision will be at the discretion of the Taipei Times.