Ma promotes ECFA to foreign press
President Ma Ying-jeou (馬英九) continued his campaign to explain his rationale for signing an economic cooperation framework agreement (ECFA) with China yesterday when he addressed the Taiwan Foreign Correspondents' Club in Taipei.
In his brief introduction, Ma said that Sunday's debate on an ECFA with Democratic Progressive Party (DPP) Chairperson Tsai Ing-wen (蔡英文) had helped increase the number of people who understood the trade pact, as well as public support for it, without providing sources.
"In the last 10 years, we have seen tremendous change in Asia. In year 2000, we had only three free-trade agreements," Ma said in English. "By last year, the number went up to 58. Taiwan should not be isolated in this reform."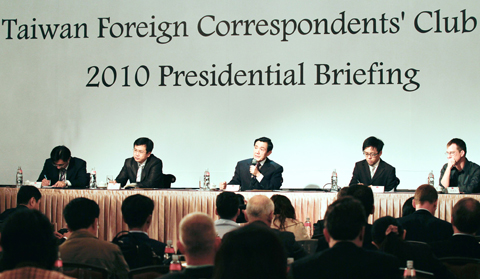 President Ma Ying-jeou, second right, speaks during a news conference in Taipei yesterday. Taiwan will set up a task force to seek free-trade agreements even as it negotiates an economic cooperation framework agreement with China, Ma said.
PHOTO: MAURICE TSAI, BLOOMBERG
"I've always said that we can handle diplomatic isolation, but economic isolation is fatal," the president said. "We have to do something about it."
On whether an ECFA would have a similar political impact on Taiwan as the Closer Economic Partnership Agreement did on Hong Kong, Ma said Taiwan is not like Hong Kong, adding: "We are an independent country."
None of the 12 agreements signed by his administration and Beijing in the past two years undermined Taiwan's sovereignty, he said. None of them included "one China" or "one country, two systems," nor will an ECFA, Ma said.
"There will be no political language in the ECFA documents," Ma said, emphasizing that the pact would be purely economic.
However, turning to the possibility of signing free-trade agreements (FTA) with major economies in the region, Ma said that FTAs had "lots of political considerations," which made them difficult to negotiate.
The DPP administration's insistence on signing FTAs using a different name from its official WTO designation had made this situation worse and explained why Taiwan was only able to sign four FTAs with its Latin American allies during that period, Ma said.
The president characterized those agreements as inconsequential economically.
Other countries, which he did not name, have reportedly told his administration they would be willing to consider FTAs with Taiwan, but recommended he sign an ECFA with China first.
"The logic is very simple ... If we are able to sign an ECFA with the mainland [China], obviously the pressure on other countries will decrease," Ma said. "Taiwan is the No. 18 trading country in the world. It's also in their interest to trade with us and they will have the courage to do that [after an ECFA is signed]."
Ma said his FTA taskforce had many potential candidates, but would not specify how many deals he hoped to achieve and remained evasive on whether he had concrete evidence that Beijing would allow Taiwan to sign such agreements.
Comments will be moderated. Keep comments relevant to the article. Remarks containing abusive and obscene language, personal attacks of any kind or promotion will be removed and the user banned. Final decision will be at the discretion of the Taipei Times.