Groups issue warning over Nantou
Environmentalists warned yesterday that Nantou County could see its very own "Siaolin" disaster as land in mountainous areas has been heavily exploited by tea farmers and developers.
Green Party Taiwan said it visited mountainous areas in Nantou earlier this month and found farmers growing tea illegally near the Jhuoshe Forest Trail (卓社林道).
Furthermore, while the government only allows the felling of trees on about two hectares of the Jhuoshuei River area's 41st forest, satellite images show that an area 10 times bigger has been exploited.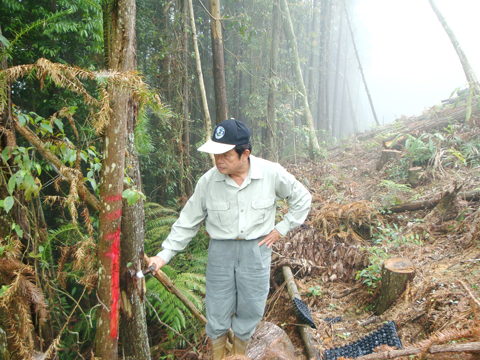 An agent of the Nantou Forest District Office inspects the scene of legally managed tree felling in the Jhuoshuei reforestation area in Nantou County yesterday.
PHOTO NANTOU FOREST DISTRICT OFFICE
Green Party Taiwan secretary-general Leo Chang (張宏林) said that the 41st forest land was located in the catchment area of the Sun Moon Lake Reservoir where Article 10 of the Forest Act (森林法) bans any development.
He said developers had logged all types of trees in the area, which may cause mudslides when the rainy season comes.
Lin Shu-ru (林叔汝), who runs a logging company on land leased from the Forestry Bureau, said that she filed complaints about illegal logging with the Nantou Prosecutors' Office in August. She said the prosecutors' office responded by saying that it had not found evidence of any abuses.
She added that representatives from then-legislator Wu Den-yi's (吳敦義) office went to check the land after Typhoon Kalmaegi struck in 2008. Wu, however, took no action.
"Nantou could be the next Siaolin Village (小林), which was wiped out by Typhoon Morakot," Green Party spokesman Pan Han-shen (潘翰聲) said.
"Wu should be held responsible for all the land abuse, given that he was a legislator and county commissioner of Nantou," he said.
In response, the Forestry Bureau said two farmers filed an application to fell trees on 41st forest lands in November last year. The plots were 2.48 hectares and 2.26 hectares, respectively, and did not violate any rules.
Comments will be moderated. Keep comments relevant to the article. Remarks containing abusive and obscene language, personal attacks of any kind or promotion will be removed and the user banned. Final decision will be at the discretion of the Taipei Times.