Taipei offers perks to movie crews
GOING TO THE MOVIES Following a similar move in New York City, the Taipei Film Commission is offering discounts to film production crews that film in Taipei
Filmmakers and TV crew who shoot in the nation's capital could receive discounts on lodging, food, drink and transportation of as much as 60 percent amid efforts by the Taipei City Government to attract more film crews as a way of promoting the city.
Joined by movie stars, filmmakers and business representatives, Taipei Mayor Hau Lung-bin (郝龍斌) announced yesterday that the Taipei Film Commission would offer a "production concessionary card" to crews that shoot most of their scenes in Taipei.
Filmmakers can apply to the commission for the card and use it at 60 participating businesses, including hotels, laundries, restaurants, cafes and rental car services, during the period of production.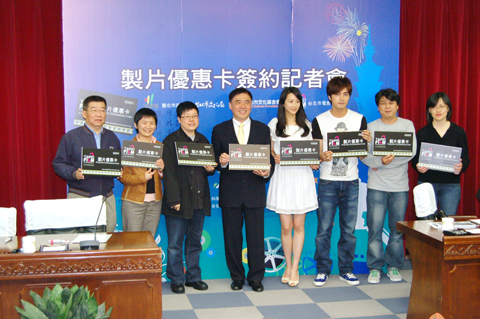 Taipei City Mayor Hau Lung-bin, fourth left, directors Lee Yu-ning, first left, and Cho Li, ­second left, and other film industry personalities pose yesterday at the launch of a "­production ­concessionary card," intended to attract filmmakers to Taipei.
PHOTO: CHEN CHING-MIN, TAIPEI TIMES
The discounts range from 30 percent to 60 percent.
"We want to provide practical assistance to the film industry so that more filmmakers will be willing to shoot in Taipei," Hau said at Taipei City Hall.
Lee Yu-ning (李佑寧), a well-known director and a member of the commission, said the idea came from a move by New York City, which provides a "Made in NY" discount card to filmmakers.
The large number of film crews shooting in the US city also brought more business for local hotels, eateries and related industries, he said.
"Our ultimate goal is to create a win-win situation for Taipei City and the film industry," he said.
New York City processes about 1,000 applications to shoot in the city every week, which has created more than 100,000 jobs, statistics from the commission showed.
The commission was formed in 2008 by Taipei City's Department of Cultural Affairs to provide assistance and financial support to local and foreign filmmakers.
However, the city only began to take more assertive steps to create a "movie friendly" environment after it missed out on the hit TV drama Black & White (痞子英雄), which was shot in Kaohsiung and highlighted many of the city's landmarks.
The commission provided substantial financial and administrative support for the Taiwanese movie Monga (艋舺) last year. The movie, which was filmed exclusively in Taipei, received a NT$4 million (US$120,000) subsidy from the commission.
The commission budgeted NT$30 million to finance films this year and has appropriated NT$10 million for seven local films selected for sponsorship for the first half of the year.
The commission was also involved in coproductions with 18 countries, including the US, Japan, South Korea and India, she said.
Hau said the city government would attempt to encourage more local businesses to offer discounts to filmmakers.
Comments will be moderated. Keep comments relevant to the article. Remarks containing abusive and obscene language, personal attacks of any kind or promotion will be removed and the user banned. Final decision will be at the discretion of the Taipei Times.