FEATURE: Family finds POW camp savior over six decades later
Most people would think that an internment camp prisoner and a guard would be sworn enemies — but that's not the case for former prisoner Chao Shih-ping (趙世平) and her guard, Ko Ching-hsing (柯景星). In fact, Chao and her family spent 65 years searching for Ko to deliver a long-delayed "thank you."
The family's wish was finally fulfilled when Chao's niece, the Houston-based psychologist May I-ting Lu (卓以定), flew across the Pacific Ocean to meet Ko on Thursday last week at his house in Homei Township (和美), Changhua County.
"Everyone in our family is full of gratitude [to Ko], because he saved the lives of my aunt and her two children," Lu told the Taipei Times in a telephone interview. "My father, who had just passed away last year, would be so happy to see that we finally found Ko."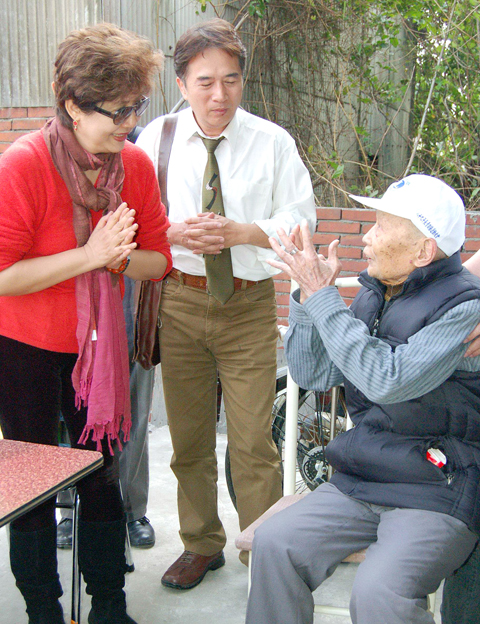 May I-ting Lu expresses her gratitude to Ko Ching-hsing, a guard in a Japanese concentration camp, for saving Lu's aunt and her two daughters during World War II. Lu meet Ko at his home in Hemei Township, Changhua County, last week.
PHOTO: TANG SHIH-MING, TAIPEI TIMES
The story began more than six decades ago in wartime Sarawak, a British colony at the time and now a state of Malaysia.
The Japanese invaded Sarawak at the end of 1941 and soon occupied it.
Serving as the Republic of China consul to Sarawak at the time, Lu's uncle — Cho Huan-lai (卓還來) — was arrested and put in prison the following year as he refused to collaborate with the Japanese. At the same time, Cho's wife — Chao — and their two children were also put in the Batu Lintang prisoner-of-war (POW) camp near the Sarawak capital, Kuching.
Along with civilians like Chao and her children, the Batu Lintang camp housed thousands of Allied POWs.
A group of young Taiwanese in their teens or early 20s was sent to Batu Lintang as guards to watch over the prisoners.
An editor at Taiwan Historica and a specialist in the history of Taiwanese serving in the Japanese military during World War II, Lee Chan-ping (李展平), said that as many as many as 200,000 Taiwanese men and women were sent to Southeast Asia and China to serve as soldiers, POW camp guards, coolies and comfort women.
"We estimate that around 65,000 Taiwanese sent abroad by the Japanese colonial government died abroad," he said.
It was at the POW camp that Ko met Chao.
"The food supply was short, especially for the prisoners, so the consul's wife and her two kids were malnourished and in horrible condition," Ko said. "The two kids were probably around four or five or six years old then, and I knew that they could die if I didn't help them."
Hence, Ko bought a carton of cigarettes and gave two packs to local farmers in exchange for a basket of 30 or 40 eggs, he said.
"I gave the eggs to the woman [Chao]. She was going to kneel down [to thank Ko], but I told her: 'No, you can't kneel down in front of me because I'm younger than you are and I'm not married. I will not give you the eggs if you kneel down before me,'" Ko said.
With the help of Ko, Chao and her two children survived the war and returned home — her husband was beheaded by the Japanese in July 1945.
Chao and her two children weren't the only people that Ko helped at the Batu Lintang camp.
Local farmers around the camp once complained that Allied POWs had stolen pineapples from their farms and threatened to report them to the camp authority.
"I gave them six packs of cigarettes and asked them not to report [the theft] because the POWs would be in deep trouble if the Japanese knew about it," Ko recounted.
After being freed from the camp, Chao and her family began to look for Ko to thank him for saving their lives.
"My aunt asked for Ko's address in Taiwan, but we couldn't find the address because the Chinese Nationalist Party [KMT] government that took over Taiwan after the Japanese surrendered changed the numbers, street names, district names and everything," Lu said.
"My father, Cho Kuang-lai, also made several fruitless attempts to look for Ko after he retreated to Taiwan with the KMT government," Lu said.
Lu said it was when she finally met Ko last week that she learned her father couldn't find the man who saved his sister-in-law's life because Ko was jailed as a war criminal in Rabaul, Papua New Guinea, until 1953.
Ko was sentenced to 10 years in prison for killing two Allied POWs, but was released after serving seven-and-a-half years in prison.
Ko said killing the POWs — who had become his friends over the years — was the most difficult thing he had done in his life and that it continues to haunt him today.
Ko and other Taiwanese camp guards were ordered to execute the POWs to save food supplies toward the end of the war.
Ko protested, saying it was illegal to kill POWs, but a Japanese officer pointed his pistol at the Taiwanese guards with one hand and held a samurai knife on the other, threatening to kill them if they didn't kill the POWs.
"As many as 173 Taiwanese stood in court for war crimes after World War II. Twenty-six were executed, of which 11 were hanged," Lee said.
Despite this dark page in his life, Ko said he was happy to see Chao's family.
"I'm really happy that they still remember me. I never expected they would actually come to see me after so many years," he said.
"Of course we remember him," Lu said, as her father had talked about Ko since she was a child.
"If you're done something good, people will remember you," Lu said.
Comments will be moderated. Keep comments relevant to the article. Remarks containing abusive and obscene language, personal attacks of any kind or promotion will be removed and the user banned. Final decision will be at the discretion of the Taipei Times.