Couple builds house from paper
A Canadian and his Taiwanese wife have built their dream house out of pulped newspapers. John Lamorie, an English teacher living in Taiwan, collected 1,300kg of old newspapers and turned them into building materials with a pulping machine he invented. It took him and his wife almost a year to build, but now they have an environmentally friendly house in Pingtung County.<
Lamorie was born in Canada, but grew up in New Zealand before coming to Taiwan 11 years ago, where he met his wife Wu Lian-chun (吳連春).
"We are a real life Beauty and the Beast," Lamorie said.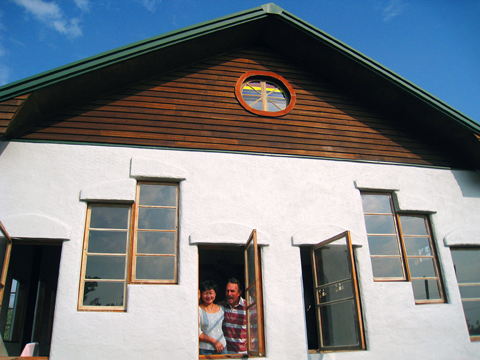 Canadian John Lamorie and his Taiwanese wife Wu Lian-chun pose for a photo in their new house in Pingtung County on Boxing Day. The house is made of 1,300kg of old newspapers that Lamorie turned into building materials using a pulping machine he invented.
PHOTO: HOU CHIEN-CHUAN, TAIPEI TIMES
Lamorie said he loves a challenge, and that when he is not teaching English, he fills his time with carpentry, building and glass painting. He has already made five wooden houses abroad and five years ago purchased a plot of land in Pingtung County.
Most of the buildings on their land are wooden structures set in lush, green surroundings with a bridge over a stream and a small pond for geese and ducks. The main house, which they just completed, is built from bricks made of old newspapers.
Lamorie uses as much recycled materials as possible. He got his hands on old window frames when his mother-in-law renovated her house and he acquired old Japanese cypress wood from the school where he works.
It all started when a friend of his from the US was visiting and happened to mention the idea of a paper house, Lamorie said.
He said he got interested in the idea and searched online for information about how he could make one himself. He devised his own paper pulping machine using old rubber tires and plastic buckets and asked his students to save their old newspapers for him, Lamorie said.
With the pulper up and running, the next step was to make molds for the bricks. He left the bricks out to dry in the sun, and they went down from 5kg when wet to 1kg when dry. The couple built the house in their spare time and now have a paper house of about 75m².
They placed colored glass in strategic positions so light could come into the house, creating a mosaic effect in the rooms.
Wu said the couple had to import silicon paint to make sure the bricks were waterproof. They are also soundproof and provide good insulation. Wu said they passed an important test in August last year when the house held up during Typhoon Morakot. Lamorie is now putting the spare bricks to use by making a pavilion.
Comments will be moderated. Keep comments relevant to the article. Remarks containing abusive and obscene language, personal attacks of any kind or promotion will be removed and the user banned. Final decision will be at the discretion of the Taipei Times.