2009 ELECTIONS: DPP makes significant progress in local elections
Although the Chinese Nationalist Party (KMT) continues to hold more local council and township mayor seats following Saturday's local elections, the Democratic Progressive Party (DPP) made significant progress in many cities and counties.
The DPP won a total of 128 county or city council seats in the 17 cities and counties where council elections were held on Saturday, while the KMT secured 289.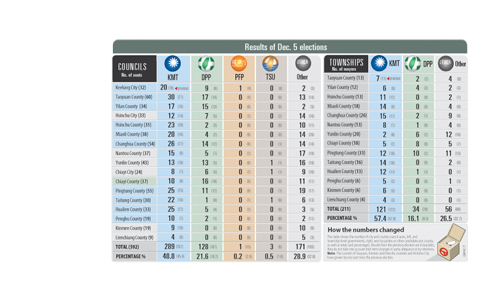 Compared with 2005, the DPP won 21 seats in the 17 counties and cities while the KMT lost 22.
Although the numbers may not seem as significant, the DPP's advances were a surprise for several political observers.
In Keelung City, all of the DPP's nine candidates for the city council were elected, in Hsinchu City, its seven candidates for city council were elected, while in Yunlin County, its 13 candidates for the county council were elected.
At present, the DPP holds six seats in the Keelung City Council, five in the Hsinchu City Council and five in the Yunlin County Council.
In Miaoli County, a KMT stronghold, four of the DPP's five candidates for the county council were elected.
The DPP has two members in the Miaoli County Council.
In the township mayor elections, the DPP increased its number of seats from 20 to 35 — including the party's Miaoli chapter director and Yuanli Township mayor-elect Tu Wen-ching (杜文卿), who ran as an independent and won the party's first mayoral office in the county — while the number of township offices under the KMT dropped from 122 to 121.
For the first time in history, Saturday's elections saw the DPP take KMT strongholds including Gueishan Township (龜山) in Taoyuan County and Hualien City (花蓮) in Hualien County, while the party also won the mayoral race in Yucih Township (魚池), Nantou County, for the first time.
The DPP's Tien Chih-hsuan (田智宣), former mayor of Jian Township (吉安), Hualien County, also won the Hualien City mayoral race with 22,031 votes, the first time the DPP won a Hualien mayoral seat. Tien won against the KMT's Lin Yu-chih (林有志) by labout 900 votes.
The Labor Party's Hsinchu County councilor-elect Kao Wei-kai (高偉凱) was the party's first member to be elected to public office.
Comments will be moderated. Keep comments relevant to the article. Remarks containing abusive and obscene language, personal attacks of any kind or promotion will be removed and the user banned. Final decision will be at the discretion of the Taipei Times.