Passport holders call for citizenship, labor rights
AMBIGUOUS STATUS Despite his ROC passport and laws for uninsured workers, one injured man was denied compensation because he lacks citizenship
Dozens of activists yesterday gathered in front of the Council of Labor Affairs (CLA) building to protest against the government's failure to protect the rights and benefits of about 2,000 "Republic of China (ROC) nationals without citizenship" living in Taiwan.
Tsai Chung-li (蔡忠理), an ROC national without citizenship, has lived and worked in Taiwan for more than 10 years. He is one of the many people born in the Philippines who hold Taiwanese passports but do not have legal residence status in Taiwan.
Workers such as Tsai, although in possession of ROC passports, are denied legal residence status because the government does not view them as "Taiwanese" and therefore denies them national ID cards. They are mostly born and raised in the Philippines, but hold ROC passports because their parents are ethnic Chinese.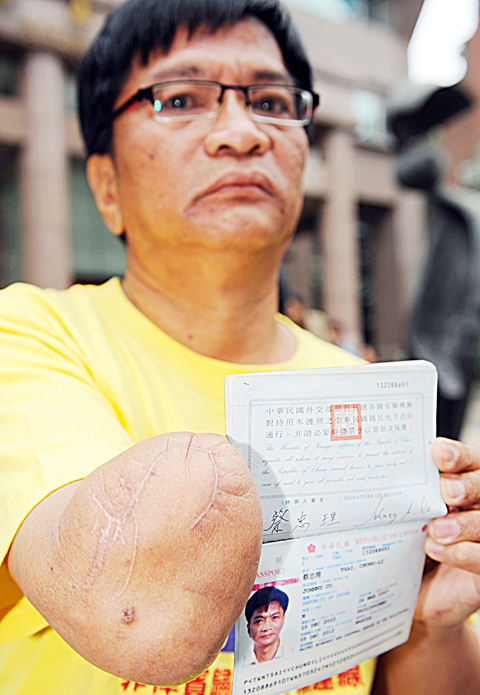 Tsai Chung-li, who has a Republic of China (ROC) passport but does not have citizenship in Taiwan, shows his ROC passport at a protest in front of the Council of Labor Affairs in Taipei yesterday.
PHOTO: WANG MIN-WEI, TAIPEI TIMES
Tsai's arm was severed in November last year when it was pulled into a machine at a factory where he worked. However, because his employer did not insure the company's workers as dictated by labor regulations, Tsai said he could not receive labor insurance compensation and occupational injury compensation that he would have received as a citizen.
Although labor regulations protect such uninsured workers by entitling them to apply for compensation in the event they become disabled from an occupational injury, Tsai's legal status means he is denied such protection.
"It has been a year since my injury, but I have not received NT$1 in compensation for my arm," said Tsai, adding that he hoped the labor insurance bureau would take a good look at the problems facing workers like him.
Lorna Kung (龔尤倩), executive director of the Scalabrini International Migration Network in Taiwan and consultant to the Taiwan International Workers Association (TIWA), said there were about 2,000 ROC nationals without citizenship living in Taiwan. Because they are denied legal status to live in Taiwan, they must leave the country for at least one day every six months to renew their visas.
The association urged the government to extend labor rights and benefits to such nationals.
The council said officials would look into the matter and process Tsai's case as soon as possible. It also said all employers must insure their workers under the national labor insurance plan, regardless of citizenship.
Comments will be moderated. Keep comments relevant to the article. Remarks containing abusive and obscene language, personal attacks of any kind or promotion will be removed and the user banned. Final decision will be at the discretion of the Taipei Times.