INTERVIEW: China to 'rule the world,' British author says Part 2
CONTESTED MODERNITY In part two of an interview with "Taipei Times" staff reporter J. Michael Cole, author Martin Jacques discusses modernity, Taiwanese independence and the 'fall of the West'
Taipei Times: In your book you mention the concept of "contested modernity." From that angle, Taiwan's modernity was informed by both its colonial experience under Japanese rule — at a time when Meiji Japan itself was modernizing — and its ties with the West, especially the US. Do these experiences mean that Taiwanese modernity and Chinese modernity are different? How does this influence views on independence, the nation-state, and what impact will it have on cross-strait negotiations?
Martin Jacques: A people's sense of identity is not a very contingent phenomenon. Peoples who think they should be independent from a nation that they regard as repressive, stranger or even alien — those kinds of feelings usually have a very long historical geniality. In the Balkans, for example, things that you thought had been put to bed suddenly get out of bed. But the period you're talking about [Japanese colonization and Western influence] is quite short. We must draw a distinction between Taiwanese/Chinese identity and what you're talking about. As an island, clearly Taiwan has distinctions from China. Islands do. Having said that, it's clear that Taiwanese also have a great deal in common with Chinese culture. Taiwanese identity in this context is rather limited. What gives it its strength is not that it is predominant over Chinese identity, but that it is separate.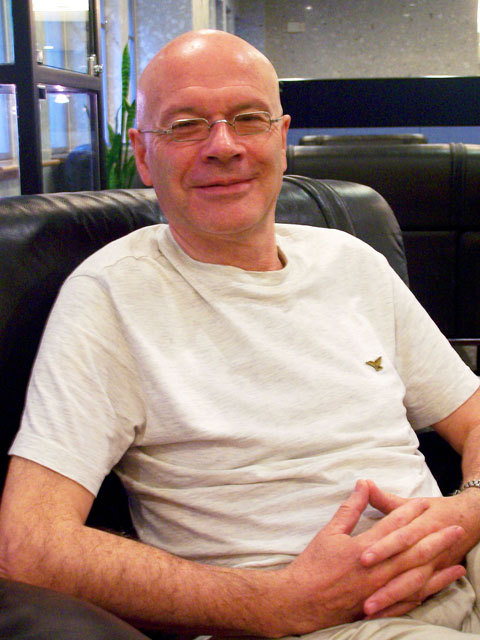 British author Martin Jacques smiles for a photograph during an interview in Taipei on Tuesday.
PHOTO: J. MICHAEL COLE, TAIPEI TIMES
This also speaks to China, which over as long historical period has developed a very strong sense of identity, even though there are vast differences within it. So the Taiwanese condition also speaks to the Chinese condition. Many of the things you say about Taiwan you can say about provinces of China. The politicization of this issue by the Democratic Progressive Party and former president Lee Teng-hui (李登輝), who was quite influenced by Japan, maybe was quite heavily driven by the Western element and the Japanese element. It is also the product of geopolitics, but the geopolitical structures are being remade really quickly. Japan is in decline, and so is the West, especially in this region. As a result, the Taiwanese independence movement might [be in decline] as well.
Taiwan regards itself to be independent and China regards Taiwan to be part of China. Both are realities. In some way, Taiwan exists in a strange space and is being throttled by the situation. Coming back to Taiwan this time — airports are symbolic in the region. Every country has a new airport. Airports speak to internationalization. The airport here is really down the hill now, to the point where I felt slightly upset about it. It has barely changed in any feature since I was here in 1999. That suggests a certain isolation in Taiwan, of course it's because it doesn't have all those international relations and so on. It bothered me that there aren't many airplanes. The last airport in the region I went to like this was Hanoi in 1999. [Taiwan Taoyuan] feels like a real old-style regional city airport. Because of its situation, Taiwan is always outside of agreement. I think this is hurting Taiwan. There is a sense this time — and I've never felt this before — that history's just passed it by.
My instinct about Taiwan is that there will be some kind of rapprochement with China. I think eventually the Chinese will say, if you accept Chinese sovereignty over Taiwan, just get on with it. There eventually will be a solution which recognizes Chinese sovereignty over Taiwan, but it will be in return for a lot more latitude, flexibility and independence than Hong Kong has seen. It's the only way it can take place. China would, for all sorts of reasons, be hugely satisfied with just Chinese sovereignty, because of the historical connotations. I think the Chinese will be very "civilizational state" about it.
TT: Do you expect a different reaction to your book in the US than the one you've seen in Asia and Europe?
Jacques: The reaction in China has been very favorable. There's a sense I've made a big effort to understand China. Also, it acknowledges China as changed and paints a picture that makes them feel good, so they like that. They feel I'm definitely not hostile to China. In fact, I'm quite optimistic about its future. The best reviews in the UK were made by 'big picture' people. The critical ones came from narrow-interest groups that focus on human rights and so on, or those that stick to a Western perspective.
I'm very interested to see what the reaction in the US will be. In a way, it could be negative in the way that part of the Chinese reaction has been positive because I'm saying that China is going up and America is going down. It's also true, however, that the US also has a lot of 'big picture' people. I think there will be a lot of Americans who will be on my wavelength. Still, my book's rather unusual for a Westerner because I don't get very exercised about the problem of democracy. I am concerned about it, but I don't think everything begins and ends with the problem of democracy. In fact, I think the problem of ethnicity and race is a bigger question.
TT: You mention that the West and the US could resort to a trade war if they see the current international system as befitting China too much. Are we on the brink of a trade war?
Jacques: So far we've only seen skirmishes. But if it carried on and were to turn into a trade war, it would start like this anyway. The global recession and the rise of China — the rise of one country and the decline of another — means we're seeing a classic era of instability. The truth is, however, that China hasn't really been demonized in the US, nothing like what happened vis-a-vis the Soviet Union. Ever since the Mao-Nixon rapprochement, relations between the US and China have been surprisingly stable and positive — so far.
It wouldn't be difficult to imagine a situation where it flipped, where factors on either side exacerbated matters until things get out of control. It wouldn't be difficult to see China become the object of a new clash. But is it going to happen? There are constraints on China and the US regarding the debt and China's reserves. It's very important for the US to keep China on side, because if China pulls the rug, you can see the end of the dollar as a reserve currency. On the other hand, the Chinese don't want to do it because it would screw up the value of their reserves, because the collapse of the dollar equates to the collapse of the value of their reserves. This is different from the Soviet era, because the Soviets were never part of the system; China is not only part of the system, it's a big part of it. This doesn't mean a clash will not happen, but the constraints are strong.
[US President Barack] Obama is probably the first American president who knows that American power is actually not unlimited. Obama tacitly recognizes the new world, while [former president] George W. Bush was in denial of it. The presidency is getting tougher, there will be big conflicts in US politics and it could turn nasty — over healthcare, for example.
As a consequence, with China rising, the political right could be reborn in a new form post-Obama and there will be a particularly toxic version of it. I would not be surprised if there were an anti-China element to it.
America is going to find itself progressively displaced by the rise of China — disorientated, dislocated, and that is going to be a very painful experience for the US. I speak as someone who's watched [over] the last 50 years how Britain handled this as a former imperial power.
Part I of this interview ran on Sunday, Oct. 4
Comments will be moderated. Keep comments relevant to the article. Remarks containing abusive and obscene language, personal attacks of any kind or promotion will be removed and the user banned. Final decision will be at the discretion of the Taipei Times.