Kadeer to apply for visa to visit Taiwan in December
CROSS-STRAIT KERFUFFLE Guts United Taiwan president and Chthonic frontman Freddy Lim visited Rebiya Kadeer at her US office to invite her in person
Rebiya Kadeer, president of the World Uyghur Congress, said she would apply for a visa to visit Taiwan in December.
Kadeer made the remarks after meeting with Guts United Taiwan president Freddy Lim (林昶佐) at her Washington office on Wednesday and accepting his invitation to visit Taiwan.
Beijing has accused Kadeer of inciting ethnic violence and of encouraging China's Uighur population to stage illegal protests, an allegation Kadeer denies.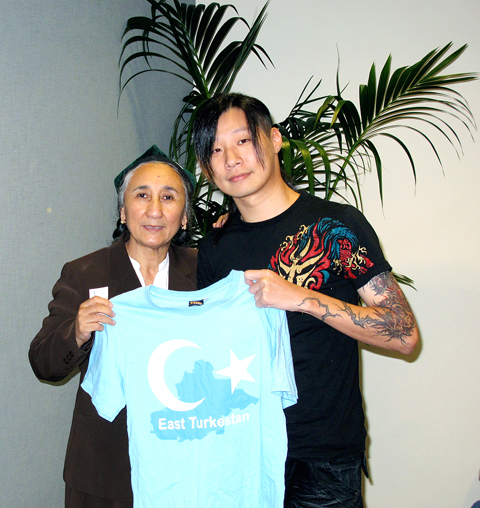 Guts United Taiwan president and Chthonic frontman Freddy Lim, right, meets World Uyghur Congress president Rebiya Kadeer at her office in Washington on Wednesday.
PHOTO COURTESY OF THE FORMOSAN ASSOCIATION FOR PUBLIC AFFAIRS
Lim, also the front man of Taiwanese black metal band Chthonic (閃靈樂團), was in the Washington area as part of a national tour when he visited Kadeer.
"I greatly admire her. I have asked her to come to Taiwan as my guest. I am already talking with lawyers in Taiwan to get her a visa," Lim said.
Lim said he decided to invite Kadeer after reading that the documentary about her, The 10 Conditions of Love, had become the center of "an outrageous" controversy at the Kaohsiung Film Festival.
The Kaohsiung City Government originally planned to screen the documentary at its Kaohsiung Film Festival next month, but later decided to screen it this week to end the controversy after tourism industry figures in the city complained that the festival's plan to include the film had led to a series of hotel cancelations by Chinese tourists.
Saying the film "distorts the facts and glorifies a separatist," Beijing had also warned Kaohsiung City against damaging cross-strait relations.
Lim said he wanted the film to be shown at colleges throughout Taiwan if Kadeer is granted a visa and visits in December.
Following her meeting with Lim, Kadeer said: "I would love to visit Taiwan, but I have not even applied for the visa yet. I want to tell Taiwanese about our struggle and about the plight of the Uighur people. I hope they will let me visit so that I can tell this human rights story."
Lim said there is no reason why Kadeer should not be given a visa.
"She has traveled to Japan and European countries without any problems," Lim said. "Taiwan is still part of the free world."
In Taipei, Cabinet Spokesman Su Jun-pin (蘇俊賓) yesterday said officials would need to see Kadeer's visa application before deciding how to handle it. The government has yet to say whether it would welcome her.
Meanwhile, a Chinese Nationalist Party (KMT) official, speaking anonymously, said the invitation was a complicated issue for the government.
The official said it would be hard for the administration of President Ma Ying-jeou (馬英九) to reject Kadeer's application given humanitarian concerns and freedom of speech. Considering a visit by Kadeer "more sensitive" than that of Tibetan spiritual leader the Dalai Lama, who visited last month, the official expressed concern that cross-strait relations would be negatively affected if Kadeer visits.
The Democratic Progressive Pary (DPP), on the other hand, said it plans to screen more documentaries on the Tibetan and Uighur issues and to invite the directors and the individuals concern to visit Taiwan "and experience Taiwan's democracy."
"Just because a person is on China's blacklist, it doesn't mean they have to be on Taiwan's," DPP spokesman Chao Tien-lin (趙天麟) said.
The controversy surrounding the screening of The 10 Conditions of Love highlights that China is the real trouble maker, rudely meddling in Taiwan's domestic affairs and interfering in freedom of speech and artistic creativity, Chao said.
ADDITIONAL REPORTING BY AFP AND STAFF WRITER
Comments will be moderated. Keep comments relevant to the article. Remarks containing abusive and obscene language, personal attacks of any kind or promotion will be removed and the user banned. Final decision will be at the discretion of the Taipei Times.