FEATURE: Futai Street Mansion has a history to share
99 AND COUNTING Lawyer-turned-history buff K.C. Chen has renovated a Japanese-era office building into a mini-museum to tell the history of its community and the city
Amid the hustle and bustle of Taipei, it is easy to miss the Futai Street Mansion on Yanping S Road and Bo-ai Road across from the North Gate and Central Post Office.
Once inside, the aroma of Formosan Cypress greets visitors. Built in 1910, the Futai Street Mansion was originally used by its Japanese owners as an office.
In the following decade, about 100 commercial buildings were constructed on Futai Street in the area inside the North Gate. The Futai Street Mansion is the only commercial building from that time to have survived.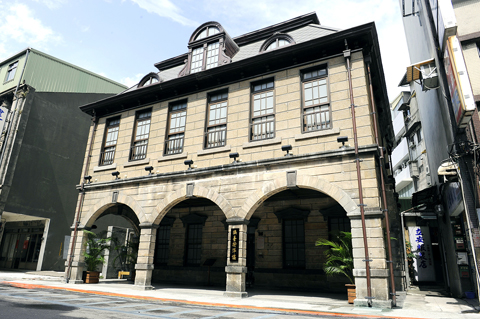 The Futai Street Mansion is shown on Yanping South Road and Bo-ai Road, across from the North Gate and Central Post Office, in Taipei yesterday.
PHOTO: GEORGE TSORNG, TAIPEI TIMES
Although small in scale (about 156m²), the two-story building has great historic value and was designated as a historic building by the city government in 1997.
Monica Lee (李金樺), the mansion's curator, says the building has the style of the Japanese Meiji period with a strong European flavor and was unique because of the materials used to construct it.
The arched pedestrian arcade was made of stone from Qilian (唭哩岸) near Shipai (石牌) and the arcade ceiling was made of Formosan Cypress and is diamond-shaped. The outside wall on the second floor was made of stucco faced with fine gravel. The roof truss was made of wood in the Mansard style and the steeply slanting roof was covered with diamond-shaped copper tiles. The three dormer windows on the roof provided ventilation.
The company that built mansion was a well-known construction firm, which also took part in construction of the National Taiwan Museum in 228 Peace Park and the Sun Moon Lake power plant.
During the Japanese colonial era, the mansion was used as an office by the construction company and then by a wine importer.
After the Japanese surrendered in 1945, the Chinese Nationalist Party (KMT) government took over the building and turned it into a dormitory for high-ranking Ministry of National Defense officials. It was eventually vacated in 1998.
Three years after the building was designated a historic site, a fire completely destroyed the building's wooden structure and scorched the stonework. A one-year, NT$39 million (US$1.18 million) reconstruction project was completed in August 2007 and the building opened to the public in April this year.
The first floor now houses an exhibition room and a cafe decorated with the work of local artists, where visitors can enjoy tea and snacks while listening to old Taiwanese music.
Climbing up the wooden stairs to the second floor, there are two exhibition rooms, one equipped with a large-size electronic book detailing in Chinese and English the history of Taipei City from 1600 to 2007.
There are pamphlets available in Chinese, English and Japanese about this building and others nearby. English-speaking guides are available only for group tours.
"We are not qualified historians, but we try to provide as much information as we can while we learn," said executive director K. C. Chen (陳國慈), a lawyer turned cultural worker.
Chen's sponsorship of the Futai Street Mansion was a continuation of her work to revive and reuse heritage sites, something she is passionate about.
She undertook the renovation of the 100-year-old Tudor-style building next to the Taipei Fine Arts Museum in 2003, turning it into the Taipei Story House.
Chen said that while the Taipei Story House has stood alone for decades, the Futai Street Mansion was part of a community.
She said her management team gave her the confidence to take up a second project.
"It's very difficult and very different to manage a heritage site compared to managing an ordinary exhibition hall," she said in English. "It is for us a totally independent site. It's not Taipei Story House the second, because it's very unique in its history and its own character."
It was the area's history that made Chen decide to turn the mansion into a mini-museum that tells the history of Taipei City and introduces other historic sites around it.
As Futai Street was Taiwan's first commercial street, she says, they wanted to use the building as a platform to introduce old Taipei.
While the Futai Street Mansion costs NT$2 million to NT$3 million to manage, Chen said the city government subsidizes electricity and water costs. The Taipei Story House receives no subsidies and costs more to maintain.
There have been 8,000 visitors since the mansion opened in April and Chen said she was surprised at public interest because the building was in a quiet part of town.
Admission has been free since April, but Chen said they are studying the possibility of charging a small fee or having visitors pay for special exhibitions, beginning later this month or next.
Ten young volunteers, aged between 10 and 11, are expected to begin work at the mansion this month, part of Chen's effort to encourage public participation in cultural work.
Chen said she hoped to hold at least one major event each year to draw special attention to the mansion. As next year will mark the building's 100th anniversary, Chen said they were planning a special exhibition and other activities.
Heritage sites are an important part of Taiwan, she said.
"It's not only because they look funny, you know, but because they have such a historic meaning behind it," she said.
"I think [the mansion] has more meaning than the 101 Building ... When this place was built in 1910, it was like the 101 Building ... 100 years later, it was totally forgotten," Chen said.
"So I think in order to appreciate 101, you have to come back here and see how things started," she said.
Lee Chian-lang (李乾朗), a professor of architecture at Chinese Culture University, said the North Gate was an important gateway to Dadaocheng (大稻埕) and the heart of Taipei City — along Hengyang Road — during the Qing Dynasty.
Private homes near the North Gate were scarce, while there were four public office buildings, which no longer exist, Chen said.
When the Japanese came in 1895, Lee Chiang-lang said, they decided to tear down Taipei's city walls and four gates to make room for bigger roads and more open space. They didn't see the walls as an effective deterrent to attacks.
While the walls and the West Gate were demolished, the remaining three gates were preserved because of a petition initiated by a Japanese librarian.
The Japanese opened shops on four main streets, Lee Chiang-lang said: Futai Street (now Yanping Road), Ronding (Hengyang Road), Bending (Chongqing S Road) and Jingding (Bo-ai Road).
Comments will be moderated. Keep comments relevant to the article. Remarks containing abusive and obscene language, personal attacks of any kind or promotion will be removed and the user banned. Final decision will be at the discretion of the Taipei Times.