FEATURE: Taipei's 'ninja turtle' keeps city's sewerage system clean
Shen An-pao (沈安寶) has spent almost half his life crawling through the stinking underworld of Taiwan's sewers.
Despite his age, Shen, who is pushing 70, still spends a great deal of time crawling through fetid, dark sewers with his crew to open up, repair and maintain underground sewerage systems wherever his services are needed.
While city dwellers enjoy the comfort of being able to flush their toilets, take showers and wash their dishes, most have probably never given a thought to the work that goes on below, with Shen and his crew putting up with the high temperatures, dark corridors and stinking air to maintain the sewerage system.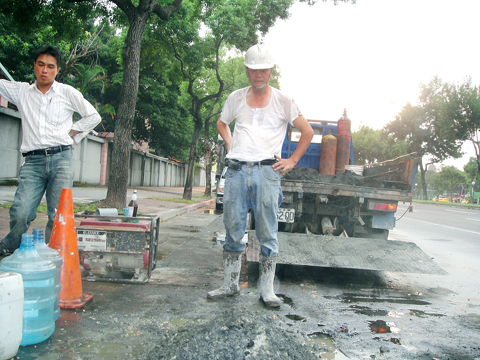 Shen An-pao, right, looks at construction for an underground sewerage system in Taipei on Sunday.
PHOTO: CNA
Shen has been living his "ninja turtle" life from 6am to 10pm each day for the past 32 years without complaint, despite the fear and fatigue that his job entails.
Shen moved from southern Taiwan to Taipei with his wife at the age of 26 with just NT$800 in his pocket. After trying a variety of jobs, including driving a taxi and a tour bus, and working on construction sites, he became a sewer worker. Starting out as an employee, he later on opened his own company.
Despite the physical demands and the potential hazards, Shen takes pride in his work, talking of how the underground piping systems he takes care of transport domestic and industrial wastewater for treatment before being flushed into the sea.
"We underground workers not only provide residents with a clean and sanitary environment, but also contribute to the nation's environmental protection efforts," Shen said in an interview after emerging from a manhole wearing a safety helmet and sweat covering his brow.
One of the major challenges of his work is to build new underground pipelines connected to sewer pipes from buildings and larger underground trunks that transport the sewage to treatment facilities.
In the past, he and his coworkers used to built the sewers manually, he said.
"The gravity and high pressure underground can make you breathless. It can even cause the bends or caisson disease," he said.
Geological variables also affect the speed of building new connecting pipes, he said.
In ground made up of ordinary gravel, he and his company can drill and lay down new connecting pipes at a rate of 20m to 25m a day. However, upon encountering bedrock, like that found in Xindian and other suburbs south of Taipei, that rate can fall to just 5m per day.
Shen said the penetration rate of modern sewerage systems is one of the indices used to gauge a nation's development status, adding that most industrialized nations have a penetration rate of more than 80 percent.
In Taiwan, however, only Taipei has a penetration rate of more than 80 percent; most cities and counties had less than 30 percent, he said.
"Taiwan still has a long way to go," he said.
Shen, an elementary school graduate, said he has been running a business that provides jobs for members of his extended family, including his younger brothers-in-law and his own children, as well as a number of other workers who have stuck by him for years.
"We've beaten the global economic crunch. My employees have never been put on unpaid leave," Shen said.
Comments will be moderated. Keep comments relevant to the article. Remarks containing abusive and obscene language, personal attacks of any kind or promotion will be removed and the user banned. Final decision will be at the discretion of the Taipei Times.