ANALYSIS: Ma facing challenges with KMT
A series of challenges awaits President Ma Ying-jeou (馬英九) as he prepares to take over the party chairmanship, analysts said yesterday.
Ma was elected KMT chairman in yesterday's party election in which he was the sole candidate for the top post. He will take over the job on Sept. 12 during the party congress.
Ma, who had said he would not take over the KMT chairmanship during last year's presidential campaign, changed his mind after assuming office and announced his candidacy last month in a bid to tighten his control over the legislature, the party and cross-strait affairs.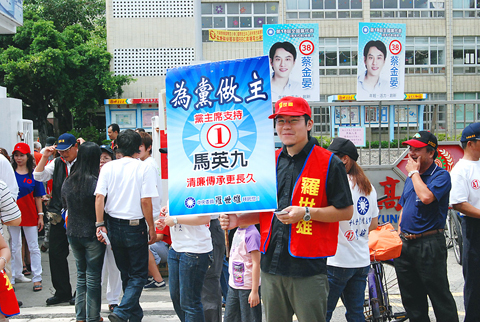 A supporter of President Ma Ying-jeou holds up a campaign poster for Ma in the Chinese Nationalist Party (KMT) chairmanship election outside a polling station in Kaohsiung City yesterday.
PHOTO: HOU CHENG-HSU, TAIPEI TIMES
Shih Cheng-feng (施正鋒), a political commentator at National Dong Hwa University, said Ma's decision to double as party chairman was not surprising and that the KMT's functions will be weakened under Ma's leadership regardless of his support in yesterday's election.
"Ma takes over the chairmanship in order to hold the KMT's power in check and centralize his power, Shih said.
While Ma repeatedly he was not seeking the chairmanship to expand his power but to take more responsibility, Shih said it was clear that Ma wanted the job to push through his policies more effectively and to eliminate negative factors on his way to a second term as president.
As KMT chairman, Ma will have more control on the nomination of party candidates, especially after the redrawing of administrative zones following the mergers or upgrade of counties and cities.
However, challenges and opposition from local factions have delayed the KMT's nomination process for local government head elections and finalizing candidates for the December's polls will be Ma's first task as chairman.
In Hualien, for example, five politicians registered for the KMT's primary for the county commissioner election. However, the party called off the primary last month, reportedly because Ma wanted Minister of Health Yeh Ching-chuan (葉金川) to run in the election.
The KMT has had a hard time finalizing a candidate for the Yunlin County legislative by-election because former legislator Chang Sho-wen's (張碩文) father, Chang Hui-yuan (張輝元) — who was found guilty of vote-buying in his first trial — insists on running in the election.
Shih said Ma, who has kept his distance from local factions, would have to deal with the local politics if he plans to nominate candidates with integrity as he has promised.
Wang Kun-yi (王崑義), a professor at National Taiwan Ocean University, said Ma's doubling as KMT chairman will give him absolute power over the party, the legislature, the military and cross-strait affairs.
He said the Ma administration could become authoritarian if the Democratic Progressive Party (DPP) failed to keep the KMT's performance in check.
"Ma could rule the nation in an open yet authoritarian way. The DPP should prevent that from happening," he said.
There has been intense speculation that Ma might attend a KMT-Chinese Communist Party (CCP) cross-strait forum in his role as KMT chairman to meet his Chinese counterpart, Hu Jintao (胡錦濤).
Taking control of the KMT's communication channel with Beijing would help Ma eliminate the influence of old KMT heavyweights such as former KMT chairman Lien Chan (連戰) and outgoing KMT Chairman Wu Poh-hisung (吳伯雄), and claim full authority over cross-strait affairs, Wang said.
Yang Tai-shun (楊泰順), a political science professor at Chinese Culture University, said the main reason Ma wanted the KMT job was to implement his cross-strait policies and control of cross-strait affairs.
Ma could use the KMT's legislative majority to amend the Constitution, Shih said. He said Ma should ponder the three-way relationship between the Presidential Office, the Executive Yuan and the Legislative Yuan because taking over the chairmanship alone would not solve the power struggle between the three.
Comments will be moderated. Keep comments relevant to the article. Remarks containing abusive and obscene language, personal attacks of any kind or promotion will be removed and the user banned. Final decision will be at the discretion of the Taipei Times.