Mother visits incarcerated Chen
MISTAKES In his new book, the former president says he was too benevolent to 'enemies' such as Ma Ying-jeou and that his wife said he was too softhearted
Former president Chen Shui-bian's (陳水扁) mother visited him at Taipei Detention Center yesterday for the first time since his detention.
Chen Lee Shen (陳李慎), 85, who lives in Tainan, arrived in Taipei by high-speed rail yesterday morning accompanied by her daughter.
DPP Legislator Chen Chi-yu (陳啟昱) told reporters that when mother and son saw each other both broke down in tears.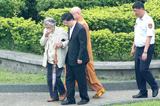 Chen Lee Shen, left, the mother of former president Chen Shui-bian, is pictured after visiting the former president in custody at the Taipei Detention Center yesterday.
PHOTO: GEORGE TSORNG, TAIPEI TIMES
He said that Chen Lee Shen said she believed her son could not have done anything wrong and was worried about his deteriorating health.
Chen Shui-bian's daughter and son-in-law last week said he was suffering from arthritis, a rash and gum problems.
The former president has been there since December and was in court last week for the first of several alleged corruption cases he said have been orchestrated by a vindictive government angered by his anti-China views.
Chen and members of his family have been charged with embezzlement, money laundering and taking bribes.
Meanwhile, Chen Shui-bian blamed himself in his new book for failing to restrain his wife, who he said had taken money and wired a large sum overseas without his knowledge. He said he should shoulder political and ethical responsibility.
The book, titled Voices that Can't Be Locked Up (關不住的聲音), hit the book shelves on Wednesday. Chen's office held a press conference yesterday to promote the book, the second he has written during his period of incarceration.
It is a collection of 50 letters by Chen to himself, his family and other politicians, including President Ma Ying-jeou (馬英九) and Chinese President Hu Jintao (胡錦濤).
In a letter addressed to himself, he said he made eight mistakes during his eight-year presidency.
Among them was a "laissez-faire" attitude toward his wife. Chen said he owed the public and his supporters an apology but he wanted to make clear that he was not in charge of family finances. He emphasized that he was not afraid of his wife but tolerated and respected her.
"I would like to apologize to Taiwan, the party, my fellow party members and our supporters," he said. "I know your pain and shame. Not even an execution can atone for my sins."
He also regrets not seriously tackling the problems caused by transitional justice, he said. He said he was not audacious or evil enough to persecute former Chinese Nationalist Party (KMT) officials or reclaim the KMT's stolen assets.
"Your enemies are never merciful to you," he said. "If you are benevolent to your enemy, you are cruel to yourself."
Chen said Ma had tried to divert attention away from his own incompetence by waging a political vendetta against him, adding that his wife always said that he was too soft-hearted.
While he had protected former president Lee Teng-hui (李登輝), Chen said Lee was not grateful. Nor were People First Party (PFP) Chairman James Soong (宋楚瑜) and former KMT chairman Lien Chan (連戰), he said.
"You asked for it because you were too nice to your enemies," he said.
Chen said he did not appoint a successor, leading party heavyweights to fight among themselves, and thereby losing the presidential election.
Chen revealed that he had intended to retain former premier Yu Shyi-kun's position so there would have been no contest between Yu and former premier Su Tseng-chang (蘇貞昌). If Yu had run with former president Annette Lu (呂秀蓮), Chen said, the pair would have garnered more than 41 percent of the vote.
Chen also said he should not have stepped down as party chairman following the 2004 legislative election, which the DPP lost.
Chen said had he not nominated DPP Chairperson Tsai Ing-wen (蔡英文) as a legislator-at-large, she would not have taken the party's helm.
He also said he did not want to believe Tsai had "green skin but blue bones," but wondered how much time she needed before she could effectively lead the party.
In addition, Chen said while he donated money to the party and its members running for public offices, some candidates admitted they had taken the money, some kept quiet, some denied it and some avoided the question.
Finally, Chen said he should not have pursued a political career and that he should have been killed long ago, highlighting an assassination attempt on him and Lu on the eve of the 2004 presidential election.
Comments will be moderated. Keep comments relevant to the article. Remarks containing abusive and obscene language, personal attacks of any kind or promotion will be removed and the user banned. Final decision will be at the discretion of the Taipei Times.