Panda prank draws global attention
An April Fools' prank published in the Taipei Times on Wednesday has drawn attention and started a debate amongst readers at home and abroad, with some saying they enjoyed the joke, some falling for it and laughing it off afterwards, and others who were not amused.
The hoax article titled "Pandemonium breaks out at Taipei Zoo" said that Tuan Tuan (團團) and Yuan Yuan (圓圓), the two pandas that arrived in December as gifts from China, were discovered to be Wenzhou brown forest bears dyed black and white after zoo workers noticed unusual sexual behavior.
The story was quickly posted on a number of blogs around the world — and was even translated into Spanish. Although most readers identified it as an April Fools' item, some fell for it.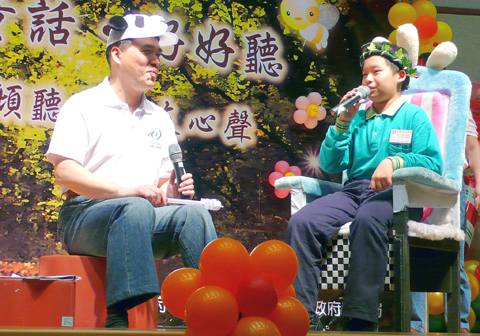 Taipei Mayor Hau Lung-bin wears a panda hat as he listens to the aspirations of an elementary school student at Taipei Zoo yesterday.
PHOTO: LIN HSIANG-MEI, TAIPEI TIMES
On an online Singaporean forum, an Internet user with the screen name Daryl — after several others users had identified the story as a hoax — wrote: "Huh? So which part is the April Fool?"
Taiwan Friends of Tibet (TFOT) chairwoman Chow Mei-li (周美里) wrote on the online TFOT discussion forum that she had already printed the story to read before someone told her it was an April Fools' hoax.
Replying to Chow, Freddy Lim (林昶佐), lead vocalist of the heavy metal band Chthonic, said a friend told him to check the news in the morning.
"I almost ran home to print it out like Mei-li did. But then I remembered it was April Fools' Day," Lim said.
International news media, including CNN, Time magazine and the Times, cited the Taipei Times story in their reports on Wednesday about April Fools' pranks published by newspapers around the world.
"It's April Fools' Day — when media outlets around the world take a break from the serious business of delivering news and play fast and furious with the facts," CNN said in its report.
However, not everyone was amused.
Chinese Nationalist Party (KMT) Legislator Wu Yu-sheng (吳育昇) yesterday called the story "untrue and baseless" and urged the Taipei Times to print an apology.
Taipei Zoo director Jason Yeh (葉傑生) did not see the funny side either and expressed concern about the prank's negative impact on panda conservation education.
"The story carried incorrect information on panda behavior and could mislead the public," he said. "The Taipei Zoo made a lot of effort to get the pandas at the zoo and we don't want to see our efforts being destroyed."
"We understand the story was an April Fool, but I don't think the newspaper should risk damaging its credibility by carrying such story simply to make people laugh," he said.
On the other hand, Taipei Mayor Hau Lung-bin (郝龍斌) yesterday seemed to get the joke.
When approached by reporters for comment on the story as he accompanied a group of students to visit the zoo's Panda Hall, Hau said: "Let me tell you, Tuan Tuan and Yuan Yuan are actually Taiwanese Formosa bears."
Geoffrey Davies, head of the journalism department at London's University of Westminster, was quoted in the CNN report as saying that running an April Fool does not particularly affect a news outlet's credibility.
"They are done in such a way that you know it's a joke," he was quoted as saying.
A statement issued by the Taipei Times said: "Printing funny fake stories has a long tradition in Western media. Not only is it funny, it reminds people to read the news with a critical eye."
Running an April Fools' Day prank is a tradition at the Taipei Times. In 2006, a prank story said the Ministry of National Defense had discovered a secret Taiwanese weapons program using chemicals extracted from chewed betel nuts. Back in 2005, then-vice president Annette Lu (呂秀蓮) was the target of the joke in a story that said Lu was "moved to tears" after attending a concert by a singing camel.
ADDITIONAL REPORTING BY MO YAN-CHIH
Comments will be moderated. Keep comments relevant to the article. Remarks containing abusive and obscene language, personal attacks of any kind or promotion will be removed and the user banned. Final decision will be at the discretion of the Taipei Times.