Man on the hunt for rare family names
NAME COLLECTOR What began as a hobby for Kuo Chih-hsiang gained meaning after an elderly woman said she feared her surname would soon become extinct
A man who once was an avid stamp collector has turned his energies toward a different kind of collectible — surnames. Over the past decade, he has collected more than 200 rare Chinese surnames from friends, relatives, coworkers and even strangers he found in a telephone directory.
Kuo Chih-hsiang (郭智祥) collects surnames by sending an envelope to a person with an unusual surname and have him or her write back with a photocopy of any document that can prove that person's identification.
Kuo said his surname collection began more than 10 years ago when he asked a Chinese man, Yao Ke (要可), with whom he intended to exchange stamps at the time, to prove his unusual family name. A month later, Kuo received a copy of Yao's ID card via mail, which inspired him to start collecting rare Chinese surnames.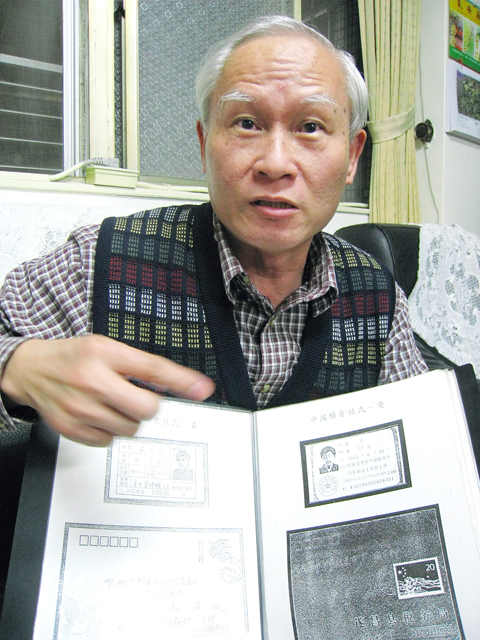 Kuo Chih-hsiang shows off his collection of more than 200 rare Chinese surnames in Taipei on March 19.
PHOTO: YANG JIOU-YIN, TAIPEI TIMES
At first, Kuo collected unusual surnames from friends who were also stamp collectors by exchanging postal products. Later, he started looking up strange surnames in a telephone directory. However, by doing so, he said he scared many people as he insisted on obtaining photocopies of their ID cards. At long last, he began accepting other types of identification, such as driver's licenses, student IDs, diplomas, club membership cards, hospital receipts and even bank statements.
To complete the process, Kuo said he would first ask a person with a rare family name for his or her address and then send them a self-stamped envelope. After that, he would either visit in person to pick up the envelope or have the person mail it back.
Some of the rare surnames Kuo has collected include Hu (虎, tiger), Yi (蟻, ant), Shui (水, water), Yun (雲, cloud), Suo (鎖, lock), Dan (但, but) and Mai (買, buy).
Some of the surnames were so rare that the character could not be found on a computer, he said.
Pang Shou-neng (逄守能), a local postmaster in Taichung City, remembered that Kuo had to travel from Taipei to Taichung to meet him to pick up the necessary information for his collection.
"Seeing him so committed, I decided to make friends with him," Pang said. "But since scams have become so prevalent, if he had asked me for a copy of my ID back then, I wouldn't have given it to him."
An elderly woman surnamed Tse (策) told Kuo that very few people had the surname Tse, adding that she was worried it would soon become extinct.
Kuo said this made him realize that his efforts were valuable.
Comments will be moderated. Keep comments relevant to the article. Remarks containing abusive and obscene language, personal attacks of any kind or promotion will be removed and the user banned. Final decision will be at the discretion of the Taipei Times.