Tibetan exiles threaten sit-in
BROKEN PROMISES Refugees from Tibet say the government is reneging on a vow made in January to grant residency status to the exiles who find it hard to get jobs
Tibetan refugees yesterday threatened to stage another sit-in if the Mongolian and Tibetan Affairs Commission (MTAC) refused to grant them residency permits as promised.
Tibetan Welfare Association chairman Jamga (蔣卡) said that although the government had promised to give his compatriots legal residency status, it was now tightening application criteria, making it difficult for them to obtain permits.
"We were overjoyed when the Immigration Act [入出國及移民法)] was amended before the Lunar New Year, making it possible for us to get permits, and President Ma Ying-jeou [馬英九] also said that he cared about us and would help us," Jamga told reporters.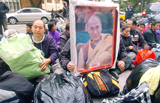 More than 60 Tibetan refugees yesterday stage a protest outside the Mongolian and Tibetan Affairs Committee in Taipei against the government for not helping them obtain legal residency status.
PHOTO: CHANG CHIA-MING, TAIPEI TIMES
"However, after several explanatory meetings, more and more of us have been disqualified from obtaining permits for various reasons. We don't know how many people will be granted residency in the end and feel cheated by the government," he said.
Over 100 Tibetan refugees without legal status staged a sit-in demonstration at Liberty Square last December, asking the government to grant them asylum. The demonstration ended when the refugees received temporary residency permits in January.
Many of the Tibetan refugees crossed through the Himalayas to Nepal and India before arriving in Taiwan using forged Nepalese or Indian passports.
The amended law stipulates that the refugees must provide legal documents to prove their identity as Tibetans, Jamga said.
The document can be either the applicant's birth certificate (or that of his/her parents), passport, Indian Identity Certificate (IC, issued by the Indian government to stateless refugees) or their Independent Book (commonly known as the Green Book, a document proving they pay taxes to the Tibetan government in exile in India), Jamga said.
"But while constantly moving, many of us have lost our documents or never had such documents [to begin with]," he said.
In addition, Jamga said that while National Immigration Agency (NIA) officials had told them in their first meeting that holders of Indian ICs would get priority, in the third meeting officials said those whose Indian ICs were still valid would be repatriated to India immediately.
"This terrifies us; if we are sent back, we may face imprisonment or even execution," he said.
Even without being repatriated, without legal residency the refugees have no right to work, said Awansangdan, another Tibetan.
"We are now having difficulty buying food and paying rent. We have relied on donations from our Taiwanese friends, but we are at the end of our resources. We are pleading for the government to give us residency," he said.
In response, MTAC Secretary-General Chien Shih-yin (錢世英) said that the priority was to help the refugees stay in Taiwan legally, but it would take time.
"The commission has employed very loose criteria for residency application ... I understand that [the refugees] have been through a lot, but the commission wants them to attain residency status legally so they must provide something [as opposed to verbal promises] to prove their identities," Chien said.
Commission staffers have been working overtime since the Lunar New Year to help the refugees, Chien said, but the whole process will take a few months.
"There will be no immediate repatriations," Chien said. "There may have been misunderstandings between the refugees and frontline staff."
Comments will be moderated. Keep comments relevant to the article. Remarks containing abusive and obscene language, personal attacks of any kind or promotion will be removed and the user banned. Final decision will be at the discretion of the Taipei Times.