Tourism Bureau seeks to attract Muslim tourists
UNTAPPED MARKET The government is seeking to increase tourism revenue by educating staff in the tourism industry on how to meet Muslim visitors' needs
The Tourism Bureau plans to launch a campaign to attract Muslim tourists with the target of luring 2,000 Muslims annually in the initial years, a newspaper reported yesterday.
The bureau held a seminar yesterday to introduce the untapped market of Muslim tourists to local travel agents and to discuss strategies that would help attract more Muslim tourists, the United Daily News said.
"There are millions of Muslims in the world who live in India, Malaysia, the Middle East and Arab countries. The potential is huge," bureau official Liu Hsi-lin (劉喜臨) was quoted as saying.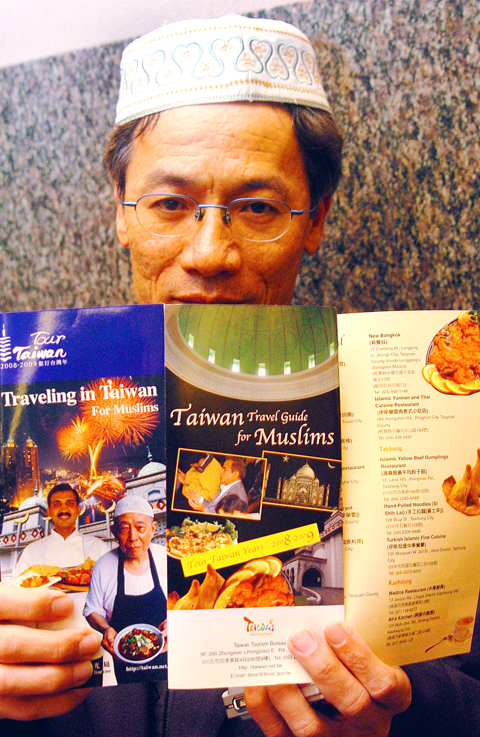 A Muslim man yesterday reads a Tourism Bureau brochure designed especially for Muslim tourists visiting Taiwan.
PHOTO: CHANG CHIA-MING, TAIPEI TIMES
REPRESENTATIVES
He was joined by some 150 representatives from hotels, restaurants, recreational farms and the local Muslim community.
"Today's seminar is just the start of a series of efforts that the Tourism Bureau will make to tap into the huge Muslim tourist market," Liu said.
The report said Taiwan has designed three package-tour routes for Muslim tourists and will upgrade facilities at these tourist spots to meet the needs of Muslim visitors.
Taiwan has 60,000 native Muslims as well as 150,000 Muslim workers from Indonesia, Malaysia, Thailand and the Philippines. There are six mosques around the nation.
Attracting Muslim tourists is part of plans to boost inbound tourism, which has been hurt by the global economic downturn.
Last year, the nation saw 3.84 million foreign visitors, falling short of its goal of 4 million.
HALAL
In addition to inviting international Muslim clerics and experts to carry out on-site inspections and plan special itineraries for Muslim tourists, the Chinese Moslem Association in Taiwan is also planning to launch a Halal certification system so that every Muslim visitor can rest assured that they are eating foods consistent with their faith in Taiwan.
Food companies are also being encouraged to produce and export Halal food products to Muslim countries, the report said.
Comments will be moderated. Keep comments relevant to the article. Remarks containing abusive and obscene language, personal attacks of any kind or promotion will be removed and the user banned. Final decision will be at the discretion of the Taipei Times.