'Black disease' is killing coral reefs off Taiwan
OVER-DEVELOPMENT Researchers refer to the coral off Orchid and Green islands as the final paradise in the nation, but say its future is threatened by human activity
A disease spreading quickly through coral reefs near Taiwan's outlying islands poses a serious threat to the nation's marine environment, experts and environmentalists said yesterday.
The International Year of the Reef last year called on people from 157 countries in the world to sign an online petition pledging to protect coral reefs. Each person who signed the petition pledged to behave in an environmentally responsible way — such as by using products that would not pollute the sea and eating only seafood that is caught in a sustainable manner.
Taiwan ranked fourth in the number of people who have taken the pledge, after the US, Malaysia and China.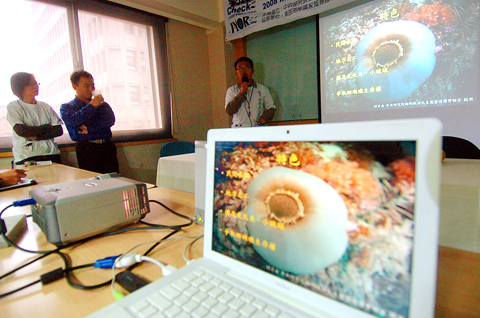 Members of the Taiwan Environmental Information Center and the Taiwan Association for Marine Environment Education announce that a series of underwater experiments on Taiwan's coral reefs will soon be launched at a press conference held at National Taiwan University yesterday.
PHOTO: LO PEI-DER, TAIPEI TIMES
"If calculated in proportion to the total population and surface area covered by coral reefs, Taiwan would actually be the champion," said Allen Chen (陳昭倫), assistant research fellow at Academia Sinica's Biodiversity Research Center. "This shows that Taiwanese care a lot about the preservation of coral reefs."
Chen was one of the leaders of last year's reef check project. Funded by Academia Sinica and other preservation organizations, 2008 Reef Check in Taiwan gathered volunteers from local Aboriginal tribes and diving groups to check the condition of coral reefs around the nation's offshore islands.
What the volunteer divers and researchers discovered astounded them. While coral reefs were still relatively unaffected in the areas off Taitung (台東) and Penghu (澎湖), human activities were threatening their future.
"When we dived down and saw [the coral], we couldn't believe that such a sight would exist in Taiwan. We thought, this is Taiwan's 'last remaining heaven,'" Chen said.
However, human activity such as development and construction, combined with over-fishing, threatens to destroy the coral reefs and endanger marine life, he said.
The researchers also found that a "black disease" was spreading quickly, covering reefs with a black disease and causing the reef coverage rate to drop in areas with more frequent human activity, such as Green Island (綠島) and Orchid Island (蘭嶼).
The discovery of a problem long suspected but seldom documented showed that coral was suffering widely in waters up to 5m deep and 300m offshore, Chen said.
"We still have to do more research to determine where the black disease comes from — is it caused by over-fishing or pollution?" Chen said.
Chen also expressed concern that in all the coastal areas they investigated, there was a serious deficiency of the types of fish that indicate the overall health of marine life. Over-fishing is caused by Taiwanese having a rich "seafood culture," but lacking knowledge about marine preservation, he said.
Chen and other environmentalists urged the government to view coral reefs as living organisms, not rocks.
"Coral reefs are even more important than pandas because they are the largest living organism in the ocean," Chen said, urging the government to pass laws to protect the reefs in order to ensure a rich and diverse marine ecology.
The environmental groups will be conducting another round of reef checks this year and encourage those who are interested in protecting marine life to sign up to volunteer at http://e-info.org.tw/node/40662 .
ADDITIONAL REPORTING BY AGENCIES
Comments will be moderated. Keep comments relevant to the article. Remarks containing abusive and obscene language, personal attacks of any kind or promotion will be removed and the user banned. Final decision will be at the discretion of the Taipei Times.