INTERVIEW: Freedom House stresses safeguarding of democracy
Freedom House released its annual 'Freedom in the World' report in Asia for the first time yesterday. The Freedom House delegation — Christopher Walker, director of studies; Bridget Welsh, academic adviser and a professor at Johns Hopkins University ; and Sarah Cook, Asia researcher — talked to 'Taipei Times' staff reporter Huang Tai-lin on Monday, sharing their thoughts on Taiwan's democracy and how they are looking closely at the 'bumps in the road' it has encountered late last year to see whether they would have any larger implications this year
Taipei Times: On Nov. 20 last year, Freedom House issued a statement calling on the Taiwanese government to set up an independent commission to investigate the clashes between demonstrators and police during Chinese envoy Chen Yunlin's (陳雲林) visit. Have you seen anything that has either eased or aggravated such concerns?
Christopher Walker: There have been some developments in Taiwan in recent period that's been a cause of particular concern, and that was one of the driving reasons for the issuance of the statement we released late last year, and something we are monitoring very closely now. So 2009 is really a critical year for Taiwan in our evaluation, because many of the proceedings, measures and events that we started to track last year will be moving forward and perhaps moving toward completion, so this would be a critical year for seeing how Taiwan institutions respond, and to see whether they self-correct that suggest the democratic system is working effectively.
Bridget Welsh: A lot of things involving trials, for example, we wait to see the overall process. When a trial begins, you don't want to judge too quickly, you want to wait and see how the process evolves. Before we make an assessment, we try to look for more effectively how things have changed, as opposed to event-driven.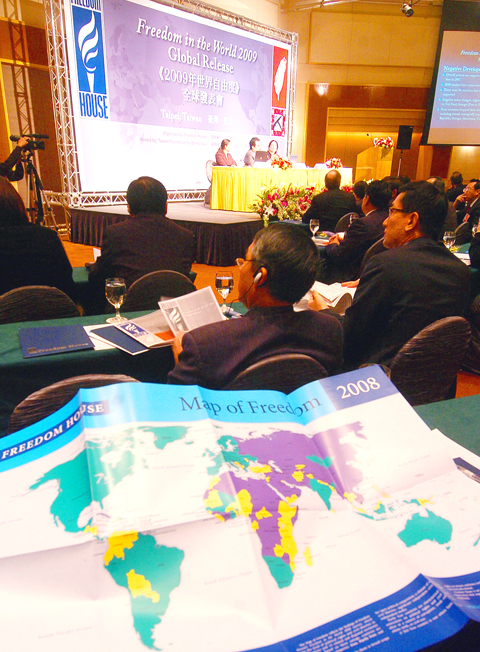 Members of the audience examine a "Map of Freedom" and other documents published by the US nonprofit organization Freedom House at the global release of the group's report at Far Eastern Plaza Hotel in Taipei yesterday. The event was hosted by the Taiwan Foundation for Democracy.
PHOTO: WANG MIN-WEI, TAIPEI TIMES
Sarah Cook: We understand several channels have been found. I think there was a police investigation started internally; there had been a request for an investigation by the Control Yuan, and we are following that to see how those have been investigated. There have also been some cases that have been submitted directly to the courts by people individually who think their rights have been violated by the police, or by some other restrictions. All these are all in a very kind of early stage now. Nonetheless, it is an encouraging sign to see at least steps are being taken. But we will be following to see how fair and how in-depth and how impartial this judiciary goes.
TT: Taiwan qualifies as an electoral democracy. However, some have expressed concern that with the Chinese Nationalist Party's (KMT) controling both the executive and legislative branches, there maybe a democratic tyranny in the making, or an authoritarian regime that exploits democracy. Have you come across such concerns in your analysis?
Walker: I think there's always the concern that if you have a dominant political force, this may somehow diminish the checks and balances. But I don't think it is necessarily the case. I think you have to keep a close eye on whether the institutions of democracy are doing their job in preserving the independence of judiciary.
For example, in a democratic context — ensuring that prosecutions are not done selectively, that they are being done according to the rule of law, being done on the basis of facts, and not on basis of some sort of political direction. In any sorts of setting where you have a single party dominate democratic institutions, you have to be mindful and careful about [these things]. The priority is not to say that it will be the case, there's more of a question of keeping a close eye on the institutions that retain their integrity, whether or not there's one party in control.
TT: So, so far there has not been any flag that has prompted concern about Taiwan in that regard?
Welsh: Next year's [this year's] local elections will be really important. The process of electoral campaign, the issues of free demonstration and protests, these things are really important and we look at every country when we are making an assessment. The rights of assembly and the rights of people [from all sides] to express themselves — all these things are what we look at consistently, and not just in Taiwan, but across the board. I'd say these things are very much on our agenda and we'll look at Taiwan and see how Taiwan evolves this year.
Cook: The KMT has a very specific history, and there are other concerns in Taiwan. That's one of the reasons why we are watching it closely, but I think it does not necessarily need to be an assumption that there would be an erosion of democracy because a particular party holds both the Executive Yuan and the Legislative Yuan.
TT: On the Assembly and Parade Act (集會遊行法), the ruling and the opposition parties have reached a consensus on amending the law, requiring protesters to notify the authorities ahead in lieu of the practice of seeking permission from the authorities. There has been debate on whether notifying the authorities should be voluntary or mandatory. What are your thoughts on it?
Walker: The first thing I would say is democratic societies tend to have a variety of different ways in treating this issue within the democratic [framework], so there are instances where some sort of notice is required. I think the key is that the notices and the requirements are not applied in a selective way, or that diminishes opportunity for a meaningful assembly, association and vocalization on these issues. And we have heard a lot on this issue because of events [that happened] last year. Because of the issues we just discussed, it is important that steps are taken to ensure that freedom of assembly is fulfilled.
Welsh: We look at things very comparatively. I just came from Burma, and Burma is not Taiwan in terms of what the conditions are on the ground, what the circumstances are, same thing for what's going on in Thailand, what's going on in Malaysia, in Korea, there are different circumstances. For Taiwanese, they are thinking in chronological process, they are thinking from a historical framework, which we appreciate and we understand. But at the same time, what we do is we look at how Taiwan compares to other countries.
TT: We understand that the Freedom of the World report compares the practice of democracy in different countries. Since Freedom House conducts an annual survey, we can compare how a country, in this case, Taiwan, is doing this year compared with last year or two years ago. There's concern that might have been some democratic regression in Taiwan based on what happened in the past couple of months. What are your thoughts on that?
Walker: I think the point to keep in mind in the Taiwan case is that when we evaluate a democratic system — and Taiwan is clearly in a democratic group of countries — there is the assumption that the democratic institutions should respond.
It is not to say that they do in every instance, but for our purposes, given the chronology of events in 2008, when the elections occurred, when the rotation of power occurred, some of the events of concern that emerged near the last quarter of the year, the question now is, these are events that are in process, how they are fulfilled and completed, so our expectation is that these will move along over the course of this year in a way that will allow a meaningful evaluation of the way they have been fulfilled or not. 2009 is a pivotal year on many of these important questions that are now moving to the top of agenda in Taiwan.
When [you] talk about a country like Taiwan, you really are talking about the challenge of how you can improve a democratic process that is strong, but not perfect. It is a very different sort of conversation when we are talking about countries in the middle of category [for our report], very different sort of conversation once you talk about Burma, North Korea, and the rest of the world.
The media, of course is critical. When you look at countries that are successful in tackling corruption, invariably they have open, independent, and vibrant media, in addition to an independent, capable judiciary and a compatible political environment. You can have countries that are horribly corrupted, where not only don't you have discussion of corruption but you don't have meaningful means to tackle it in a tyrannical setting.
So conversely when we look at country like Taiwan, we say what is it that worked to ensure that the institutions are doing what they are meant to do, that they are being safeguarded, that the debate is constructive, not polemical, and the judiciary is working according to rule of law, not according to select application of it, towards one political party, or another, certain people. It is important to emphasize that we are looking at institutions' performance, we are looking at how these institutions fulfill their responsibilities.
By way of comparison, China will have an enormous problem tackling corruption over time, in our view, precisely because the media has so many obstacles to operate in an open and independent way. Likewise, while there have been efforts to modernize the judiciary in China and to add to its capacity, there is really a significant question mark as to whether that will be successful over time.
In the Taiwanese context, we are really looking to make sure that these institutions are safeguarded and that they are fulfilling the roles that they achieved with work and success over these last 20 years.
TT: Freedom House has ranked China in the past as "Not Free," whereas Taiwan has often been praised for it democratic achievements and dubbed a beacon of democracy for China. In light of recent events, however, some fear that in the tug of war between Taiwan and China, rather than Taiwan pushing China gradually toward democracy, it is China that is influencing Taiwan. The KMT government is known for its pro-China policy. Some fear that Taiwan's closer alignment with China may be made at the expense of Taiwan's democracy.
Walker: Last year was the year of the Olympics, and there was hope that this would inspire more progress on human rights and democratic reforms. We didn't see it and that was really disappointment, and also, a missed opportunity in many ways.
Cook: We have to keep thing in perspective in terms of whether it is one incident that is a violation of civil liberty versus the full grown regression of democratic, and I think that's the problem that's trying us now — are these just bumps in the road ... or is there something bigger happening here now that's more institutional level.
In terms of what you are talking about, we are very much paying attention, particularly when there's any kind of links between complaints about rights violation in Taiwan. It maybe a little too early to judge right now, but it will be one of the things we will be looking at in 2009.
TT: You mentioned bumps in the road. In your assessment, how many bumps, or incidents billed as isolated cases, will there be before you start thinking something might not be right?
Walker: I'd think of how much these cases have actually worked through the process. If the judgment is that the process hasn't been responsive and, for example, the trials for former president Chen [Shui-bian (陳水扁)] are decided a week from now, I suspect over the course of this year, that case or other important cases, will [give us] sufficient information to make assessment. Again, not to repeat, but in 2009, given things that started after last year's elections, after the rotation of power, after some of these events again in the last part of the year, all of these things suggested that this year, depending on how they are administered, or dispensed with, will determine our evaluation on these issues.
Welsh: One thing I'll say is although there's the polarization, blue and green and so forth, there's a healthy debate. There's a healthy discussion here on some of the key issues, and even the most recent negotiation on the assembly provision, I think about how to a certain degree, the system is working. Not to say that it is perfect, nowhere is it perfect, but you have the dialogue and discussion, and some compromise is being reached. That made some changes already in the way the law is being amended. Process is very important. Democracy is not just about elections, but is also about process.
TT: There is concern that the with new US administration under president-elect Barack Obama, Washington may be anxious to promote good relations with China and overlook human rights violations in Taiwan. What approach would you suggest to show the new administration's support for Taiwan's democracy?
Walker: I think it is pretty fundamental. I think you'd hope any administration would keep a close eye on developments here and do anything in its power to enhance, and safeguard the country's democratic development.
The Freedom House's position is that, there are a range of interests and concerns that the United States would have with many countries, but in no case, should issues of human rights, transparency, democratic accountability be set aside, it should be part of that larger discussion.
Comments will be moderated. Keep comments relevant to the article. Remarks containing abusive and obscene language, personal attacks of any kind or promotion will be removed and the user banned. Final decision will be at the discretion of the Taipei Times.