Disputes mark day two of tobacco ban
CRUSHED While disgruntled business owners slammed the government for a lack of clear rules, the John Tung Foundation accused it of misinterpreting the regulations
On the second day since the new anti-tobacco regulation came into force, health officials yesterday continued issuing tickets to violators, mostly business owners who provided ashtrays or failed to display no-smoking signs.
As of yesterday, health officials in 25 counties and cities had inspected more than 10,760 establishments and issued more than 65 tickets for violations of the Tobacco Hazard Prevention and Control Act (菸害防制法), said Chao Kun-yu (趙坤郁), deputy director general of the Bureau of Health Promotion.
The first wave of inspections focused mainly on smoking in public places, he said. Most violations involved business owners who provided ashtrays or smoking-related paraphernalia, or who failed to display no-smoking signs that meet the requirements stipulated in the regulation.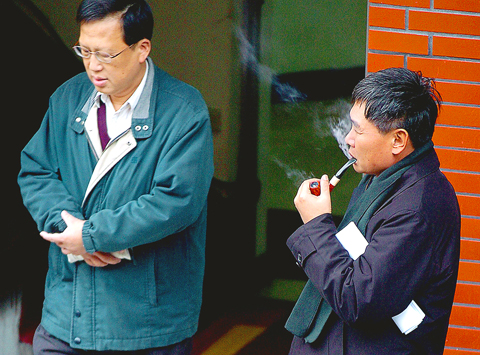 Democratic Progressive Party Legislator Lee Chun-yee puffs on a pipe outside the Legislative Yuan in Taipei yesterday – an act that may be illegal under the strict terms of the Tobacco Hazard Prevention Act, as Lee was still within the grounds of a government building.
PHOTO: LIAO CHEN-HUEI, TAIPEI TIMES
Many people, however, disputed what they saw as "gray areas" in the regulation, such as certain public outdoor areas that are "completely smoke-free" as stipulated in the regulation. Some people complained they did not know open areas outside hospitals were considered smoke-free zones, while others were confused about whether they could smoke in temples, as most temples are open spaces that are filled with smoke from burning incense.
Hsiao Mei-ling (蕭美玲), director general of the bureau, said at a press conference yesterday that smoking would be prohibited within 10m of operating facilities in public spaces that are completely off-limits to smoking, as stipulated in Article 15 of the Act. This would include areas such as hospitals, train and bus stations, school campuses, government agencies, post offices, banks, offices with three or more people, performance halls, movie theaters, hotels, shopping malls and most restaurants.
"Large shopping areas or supermarkets are off-limits [to smoking] because they qualify as indoor working areas with three or more people," Hsiao said.
The Act "does not apply to mall shops with one or two employees, such as local shops and family-owned beauty parlors," she said.
Temples have also escaped the various categories of smoke-free spaces listed in Articles 15 and 16 of the Act, meaning that smoking is still allowed, she said.
The bureau will issue official notices to all major hospitals and clinics to provide clarification on the new Act, as well as to the Ministry of Transportation and Communications for distribution to all transportation-related facilities.
The bureau's interpretation of the Act drew criticism from anti-smoking group the John Tung Foundation.
Yau Sea-wain (姚思遠), president of the foundation and dean of Chinese Culture University's College of Law, slammed the bureau for what he said was a misinterpretation of the law and ignoring the intent of the Act.
"If the space in question has different smoking regulations depending on whether the smoker is indoors or outdoors, then the law would clearly state this," said Yau.
Smoking is prohibited at bus and train stations as well as hospitals — indoors or outdoors — as clearly stated in the Act, he said.
Small local shops and family-owned beauty parlors qualify as public spaces, as stated in Article 15 Item 13 of the Act, so it is not a question of whether three or more people work there, as the bureau stated, he said.
"Doesn't the bureau categorize 'temples' as a public space? They are, as are shops and beauty parlors," he said.
"The bureau's hasty interpretation has weakened the carefully written law," he said.
Comments will be moderated. Keep comments relevant to the article. Remarks containing abusive and obscene language, personal attacks of any kind or promotion will be removed and the user banned. Final decision will be at the discretion of the Taipei Times.