AI Taiwan protests Gaza attacks
SYMPATHIES The Israeli representative said that Amnesty International had already shown its bias by staging a demonstration in front of the Israeli office
Dozens of protesters mobilized by Amnesty International (AI) Taiwan and several other civic groups in the country staged a demonstration near the Israeli representative office in Taipei yesterday, demanding that Israel stop its military actions in the Gaza Strip.
"We cannot but feel the horror of the effects of so much bombardment and ground fire on the Gaza civilians, who have already suffered gravely from your government's blockade of even humanitarian aid and supplies," said AI Taiwan chairman Peter Huang (黃文雄), reading an open letter to Israeli President Shimon Peres in English, before handing the letter to a staffer at the Israeli office.
"This does not mean, of course, that our feelings of moral horror does not extend to the lost lives of Israeli civilians," Huang said. "On the contrary, it is for the sake of preventing more lives from being lost and for the possible beginning of a more durable peace that we're writing to you."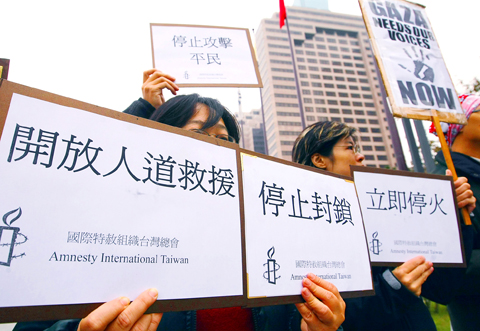 Protesters mobilized by Amnesty International Taiwan and several other civic groups demonstrate near the Israeli representative office in Taipei yesterday, demanding that Israel stop its attacks on the Gaza Strip.
PHOTO: CNA
Israel launched its latest offensive on Dec. 27 in an attempt to halt rocket fire from the Hamas-controlled territory.
According to wire reports, 22 Israelis have been killed in Hamas rocket attacks, while more than 760 Palestinians — mostly civilians — have lost their lives since Israel began the mass offensive.
Hung Hung (鴻鴻), a poet, read three poems during the protest — one by Israeli poet Yehuda Amichai that tells how Israeli civilians suffer from Hamas attacks, another by Palestinian poet Mahmoud Darwish that recounts how a Palestinian mother mourns the death of her son after the Israeli offensive, and a third one that he wrote himself, describing his joy upon learning of the withdrawal of Israeli troops in 2002.
The reading was followed by a minute of silence for those who have lost their lives in the conflict.
A staffer from the Israeli representative office came out of the building to accept the protest letter from the demonstrators.
Meanwhile, Israeli Representative Raphael Gamzou criticized AI for not fully disclosing its intention when it asked for a meeting, but added that his invitation for an open dialogue remained.
Gamzou said the group failed to conduct itself with "integrity" and that the Israeli office only found out about the demonstration from local law enforcement authorities.
He said that by lodging a protest in front of the Israeli office, AI had already shown its bias.
The office had expected the group to present an anti-violence petition.
Gamzou said although he respects the group, he declined to meet with AI officers because he refused to be an "actor in their sitcom" as he was never informed by the group it was planning to stage a demonstration.
During the eight-year-long Hamas-initiated attacks against Israeli civilians, he said he never saw "any expressions of anger and sadness from Amnesty International Taiwan or any local NGOs."
ADDITIONAL REPORTING BY JENNY W. HSU
Comments will be moderated. Keep comments relevant to the article. Remarks containing abusive and obscene language, personal attacks of any kind or promotion will be removed and the user banned. Final decision will be at the discretion of the Taipei Times.