COMMUNITY COMPASS: INTERVIEW: 'Lonely Planet Taiwan' author loves his subject
Every year, thousands of visitors to Taiwan rely on Lonely Planet to know where to go and what to do. The 'Taipei Times' sat down with guidebook co-author Robert Kelly, whose knowledge of the country's every nook and cranny is as big as his fondness for the place


British Columbia-born Robert Kelly's love story with Taiwan began at Hong Kong airport when he was 19, where, after traveling in Southeast Asia, he ran into a German on a "kung fu visa" who happened to be a teacher in Taiwan. What the latter had to say about Taiwan did not fall on deaf ears.
Back in Canada, Robert graduated from Simon Frazier University, traveled to Guatemala and then to the Yukon territory. As fate would have it, he again ran into someone who hailed from Taiwan. Wavering between moving to Japan, where his sister was working, and Taiwan, Robert chose the latter, and soon after moving here in 1996, he began teaching at a bushiban in Taoyuan, where his talent for writing stories soon gained notice.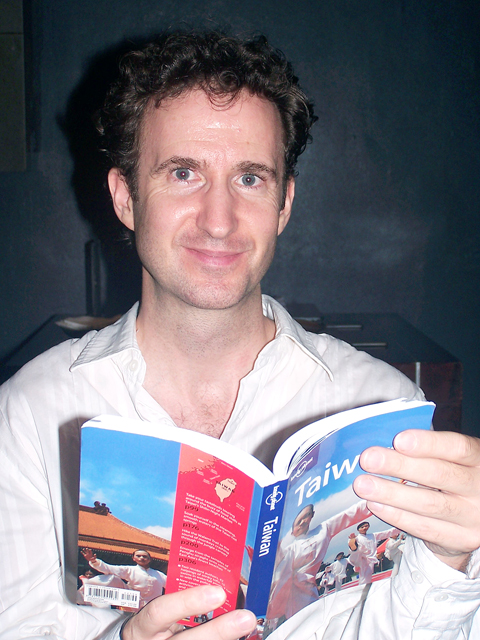 PHOTO: J. MICHAEL COLE, TAIPEI TIMES
After teaching for about a year and a half and developing pneumonia from the "toxic air" in the classroom, Robert moved to Muzha, Taipei. What immediately struck him was how quickly one could get away from the bustle of the city and "travel back in time" to rural areas.
After writing for various publishers, in fall 2003 Robert was approached by Lonely Planet, the Australia-based publisher known worldwide for its travel books. Hired as a freelancer, Robert and two other writers set about rewriting the entire guide, a 14-hour a day, seven-day-a-week adventure that would last six months.
"It was very stressful," says Robert, now 42, especially as they would only give him two or three days to cover a city of 2 million people like Taichung.
"Taiwan has among the nicest mountains in the world. I know mountains, I come from British Columbia," he said in an interview with the Taipei Times on Sept. 17.
Robert now knows that two days is enough to cover a mid-sized city. It all boils down to setting priorities, he says. Why spend a lot of time on a big city if it has little to offer tourists? Newspapers, magazines and local contacts can help save a lot of time, too, as one cannot sample every restaurant or stay at every hotel.
Another thing to keep in mind is how quickly things change in Taiwan.
"We need to stay current. I won't write about a business if it hasn't been opened for a while," he said. The trick is to focus on areas — parts of a city where most bars, or restaurants can be found, rather than specific ones, which can close at a moment's notice and no longer exist by the time the guide hits the shelves.
"Guide books that fail to stay current can waste people's time," he says.
For other aspects, staying at the general level is wise. If we say there are poisonous snakes in a river, killer bees in an area or that a sector is prone to flooding, we can't say bad things will happen for sure. But they're likely, and readers should be aware of that, he says.
"There's lots of really rough stuff in Taiwan" and readers should be aware of that. It's part of our job to tell them that."
In recent years — especially for last year's edition of the guide — the Tourism Bureau was helpful, providing various passes and lending officials, he said. This meant greater access to parks and areas, as well as information about little-known locales and insights into future development plans.
"This not only makes our guide more current," Robert says, "but it gives our readers a sense of things to come."
With a tight, one-year schedule divided between six months of research and writing, and six months of publishing, the oldest information a reader will get in the guide is one year, he says.
Hot springs, trekking and "birding" are a special focus in the latest guide, which Robert and co- author Joshua Samuel Brown felt were needed to "market" the country and distinguish it from other tourist destinations — treasures that most Taiwanese who never leave the city are unaware of themselves, he says.
Asked how writing the guide has changed his perspective on Taiwan, Robert says it has made him appreciate how the country has progressed. In fact, had it not changed, he might have left years ago.
"Studies have proven that as a country gets richer," he said, its people will start paying more attention to the environment.
With that comes development, recycling and cleaning.
He said he has also noticed that the country has many more people who give up their careers to return to the land to open tea shops or B&Bs. He also noticed that under the Democratic Progressive Party government, many Taiwanese became interested in learning more about where they came from. The two-day weekends, introduced in 2001, also encouraged Taiwanese to discover their country.
Many tourist areas, such as Kenting, have begun to realize that they cannot keep running things the "Taiwanese" way and have sought to learn from traveling abroad, he says. Slowly, people are recognizing that the area surrounding the tourist attractions, such as the beaches in Kenting, must be well-maintained for people to want to visit.
"There are no ugly areas in Taiwan," he said. "It's only what people do to the land that makes it ugly."
Fruit farms and other exploitative businesses that damage the environment infuriate him.
"If only we could pay them off so they would leave," says Robert, who once had this writer carry a bag of garbage picked up along the way during a river-tracing expedition in Wulai (烏來).
Robert has also co-authored the Lonely Planet guides to Tibet, Hainan and Qinghai, which gave him a greater appreciation for Taiwan.
"There is no real poverty in Taiwan," he says. In China, "you get six-year-old children begging in the Forbidden City, on the streets of Shanghai."
As a foreigner in China he felt he was always being "cased for money" and feared for his health and safety. Robert prefers the openness in Taiwan.
Taiwan has tremendous beauty. What it needs is "hype" for the rest of the world to recognize that, he says. With Robert Kelly as author of Lonely Planet Taiwan for the foreseeable future, that hype is in good, loving hands.
Comments will be moderated. Keep comments relevant to the article. Remarks containing abusive and obscene language, personal attacks of any kind or promotion will be removed and the user banned. Final decision will be at the discretion of the Taipei Times.