President says an apology from ARATS 'not enough'
COMPENSATION Ma Ying-jeou sought to reassure the public that he would put their interests first and would not be too careless in liberalizing cross-strait policies
President Ma Ying-jeou (馬英九) said yesterday it was not enough that China's cross-strait agency apologized for the scandal over melamine-tainted food, adding that both sides must establish a mechanism to ensure the safety of the Taiwanese public.
China's Association for Relations Across the Taiwan Strait (ARATS) on Monday asked its Taiwanese counterpart, the Straits Exchange Foundation (SEF), to convey an apology to Taiwanese consumers and distributors for causing them trouble and losses in the food scandal.
ARATS also said it would make every effort to mete out severe punishment to those found responsible.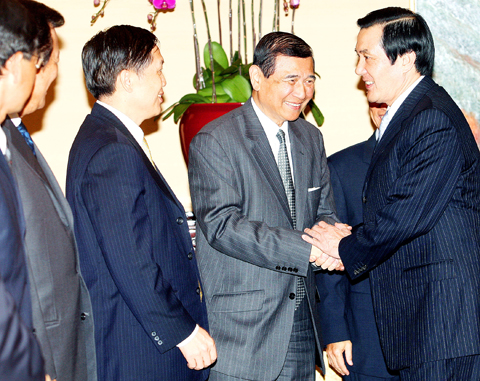 President Ma Ying-jeou meets representatives of seven industrial and business groups at the Presidential Office yesterday afternoon.
PHOTO: CNA
Ma said yesterday that although he welcomed the apology, it came a little late and the Taiwanese public would have felt better if China had apologized earlier.
The president said that punishing the producers responsible for the food scare was not enough, adding that Taiwanese consumers and distributors must be able to seek compensation as the SEF has set up a service center for such a purpose.
"The matter should not end here," he said.
The two sides must establish a mechanism for communicating, informing, negotiating and resolving problems, adding that it should deal with not only the problem of contaminated milk powder but other issues as well.
Ma made the remarks while meeting representatives of seven industrial and business groups at the Presidential Office yesterday afternoon.
Asking the public to stop politicizing the liberalization of cross-strait policies, Ma said the two sides still have a long way to go and that as the president of the Republic of China, he would make sure that cross-strait policies were not hasty and the safety and happiness of Taiwanese were put first.
"We will not lose our dignity nor damage sovereignty," he said. "I will not flinch because it is a tough job. I will keep going forward as long as the measure puts Taiwan first and serves the public's interest."
Issues on the agenda of the upcoming meeting between the two top cross-strait negotiators will be economic, not political, Ma said.
The seven business and industrial groups issued a joint statement supporting the upcoming meeting between SEF Chairman Chiang Pin-kung (江丙坤) and his Chinese counterpart, ARATS Chairman Chen Yunlin (陳雲林).
Chinese National Federation of Industries Chairman Preston Chen (陳武雄) said that only through dialogue could Taipei and Beijing find a remedy for complicated cross-strait relations.
Meanwhile, the Presidential Office yesterday dismissed the question of whether Chen should apologize to the Taiwanese public for the tainted food scandal during his visit.
Presidential Office Spokesman Wang Yu-chi (王郁琦) said that Premier Liu Chao-shiuan (劉兆玄) had already demanded that Beijing apologize and Beijing should have already "got the message."
Meanwhile, Democratic Progressive Party (DPP) Chairwoman Tsai Ing-wen (蔡英文) said yesterday that the apology ARATS had offered was not sincere.
"I am afraid that the Chinese government does not know what it has done wrong," Tsai said.
She added the Chinese government, not its cross-strait agency, should have apologized for the matter and it should also have provided a concrete compensation proposal for victims in Taiwan.
DPP caucus whip William Lai (賴清德) said Chinese President Hu Jintao (胡錦濤) or Chinese Premier Wen Jiabao (溫家寶) — not ARATS — should have represented the government in apologizing to the Taiwanese public, adding that he believed Taiwanese would not accept the apology.
Meanwhile, former Mainland Affairs Council chairman Chen Ming-tong (陳明通) told a press conference that based on Beijing's strategy toward Taiwan, he believed Chen Yunlin would bring highly political issues to the table with the intention of pushing Taiwan into China's unification framework or even transforming the meeting into preliminary talks on unification.
"As a negotiator on cross-strait economic and trade issues, how can ARATS Chairman Chen Yunlin ask to meet high-level KMT officials like former chairman Lien Chan (連戰), Chairman Wu Poh-hsiung (吳伯雄) and Legislative Speaker Wang Jin-pyng (王金平) of the KMT in Taiwan?" Chen Ming-tong said.
He added that Chen Yunlin was trying to turn the visit into part of the KMT and the Chinese Communist Party's communication platform, which follows Lien and Hu's five-point "vision for cross-strait peace" based on the so-called "1992 consensus" inked in April 2005.
Also See: Major trade groups welcome visit by Chinese official
Comments will be moderated. Keep comments relevant to the article. Remarks containing abusive and obscene language, personal attacks of any kind or promotion will be removed and the user banned. Final decision will be at the discretion of the Taipei Times.