Chinese Food Scandal: Minister clarifies melamine-free label
GET IN LINE The Department of Health said five labs certified to test for melamine had been working night and day to cope with the growing backlog of samples
By Shelley Huang Staff Reporter, with CNA
Department of Health Minister Yeh Ching-chuan (葉金川) told reporters yesterday that "no melamine detected" does not mean a product contains zero parts per million (ppm) of melamine, but rather that no melamine could be detected with the testing method used and that the product is "fit for consumption."
In response to the recent controversy over whether the government had eased its standards on the permissible concentration of melamine from zero ppm to 2.5ppm, Yeh said a Cabinet-level inter-agency panel would discuss the definition of "standard" levels of melamine on Tuesday and seek to standardize testing procedures nationwide despite the fact that different testing instruments are available in different regions.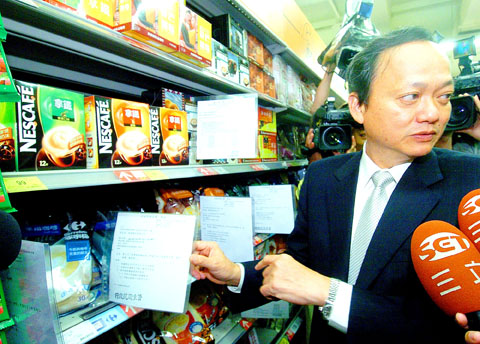 Newly Department of Health Minister Yeh Chin-chuan checks products containing milk powder that are still on sale at a Taipei supermarket yesterday. The store has displayed copies of certification to prove that the products have been tested and found to meet Department of Health regulations.
PHOTO: LU CHUN-WEI, TAIPEI TIMES
CERTIFIED LABS
The Department of Health (DOH) said the nation's five laboratories certified for testing, including the Food Industry Research and Development Institute, had been working night and day to cope with the growing backlog of companies that need to have products tested.
The DOH said it planned to have another 16 labs certified by the Taiwan Accreditation Foundation to help with melamine testing.
The labs, when ready, will accept samples seven days a week, it said.
Yeh said yesterday that the DOH would meet local health authorities in 25 counties and cities tomorrow to coordinate inspection procedures.
On Tuesday, the DOH will contact experts in the US, Japan, Australia, New Zealand and the EU to collaborate on standard inspection procedures and setting a threshold for melamine detection, he said.
'STRICTEST STANDARDS'
Yeh said the government was responsible for screening all imported foodstuffs and that all agencies, including the Bureau of Standards, Metrology and Inspection, the Bureau of Animal and Plant Health Inspection and Quarantine and the Bureau of Food and Drug Analysis would "apply the strictest screening standards."
In response to a report in the Chinese-language Liberty Times (the Taipei Times' sister newspaper) that customs personnel had not yet received lists of banned imports, Yeh said the task force had confirmed that instructions on banned products — including Chinese-made milk powder, other dairy products and vegetable-based proteins — had been issued as early as Tuesday.
Not one banned product has made it past Taiwan's borders since, he said.
RANDOM CHECKS
Meanwhile the DOH said yesterday that it would step up its random examination of food products from countries with dubious food safety standards.
"We have targeted products from certain countries with questionable standards and we do not rule out the possibility of carrying out the strictest batch-by-batch examinations of suspect products," Yeh said, declining to name any countries.
Asked to comment on the scandal involving Pizza Hut, Yeh said it was only one case and that the source of the tainted ingredients had yet to be identified.
Pizza Hut on Friday reported to the DOH that 65,000 packets of cheese powder contaminated with up to 76.2ppm of melamine may have been consumed by its customers.
Pizza Hut has since recalled all unused cheese packets.
To date, five cases of kidney stones have been reported nationwide that could be linked to melamine.
Comments will be moderated. Keep comments relevant to the article. Remarks containing abusive and obscene language, personal attacks of any kind or promotion will be removed and the user banned. Final decision will be at the discretion of the Taipei Times.