Dome of Light focus of rights talks
Italy's Narcissus Quagalita, who is seen by many as the world's greatest glass artist, has entered discussions with the Kaohsiung Rapid Transit Corp (KHRTC) over intellectual property rights and royalties concerning his Dome of Light, which is displayed at the Kaohsiung Mass Rapid Transit (MRT) system's Formosa Boulevard Station. The talks are focusing on the fact that any use of the artwork for commercial purposes could represent a copyright infringement.
At 30m in diameter and covering an area of about 660 ping (2,180m²), the Dome of Light is in the world's largest domed underground station.


Quagalita made the piece in cooperation with Derix Glasstudios in Germany. The dome, which is made of 4,500 glass panels, symbolizes rebirth and Taiwan's democratic process. The four parts that comprise it — water, earth, light and fire — symbolize birth, growth, glory and destruction respectively.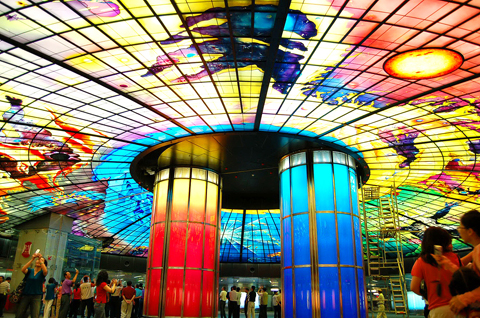 The Dome of Light at the Kaohsiung Mass Rapid Transit (MRT) system's Formosa Boulevard Station is pictured on June 24.
PHOTO: WANG JUNG-HSIANG, TAIPEI TIMES
Located close to where the Kaohsiung Incident occurred, the Formosa Boulevard Station sits at the intersection of the MRT's red and orange lines.


With the orange line scheduled to begin operations later this month, the KHRTC has developed plans to design and sell souvenirs as well as sell tickets for in-depth tours of Quagalita's work. Bridal companies have also been lining up to use it as a location for wedding photos.


As the KHRTC only has ownership rights and that any commercial use of the dome involves intellectual property rights, negotiations must be held with the original designer to avoid any copyright infringement.


KHRTC general manager Fan Chen-po (范陳柏) said that such proceedings were international practice and that it was only natural for the KHRTC to follow intellectual property rights and copyright legislation.


The company said its main concern remained ensuring that the work of art does not get damaged or destroyed by visitors.
Comments will be moderated. Keep comments relevant to the article. Remarks containing abusive and obscene language, personal attacks of any kind or promotion will be removed and the user banned. Final decision will be at the discretion of the Taipei Times.