Rare birds sighted on Matsu islet
The Lienchiang County Government yesterday launched an attempt to save a group of Chinese Crested Terns — a critically endangered species — found roosting on one of the islets in the Matsu Islands.
Ko Mu-shun (柯木順), director of the Construction Bureau under the county government, which has jurisdiction over the Matsu Islands, said the decision was reached after consultation with the Council of Agriculture.
The team, consisting of bird experts and county government officials, landed on an islet where an international bird-watching group sighted a small colony of Chinese Crested Terns last week. The team will examine the situation and decide whether to ask the Wild Bird Society of Taipei to send experts for a rescue mission, Ko said.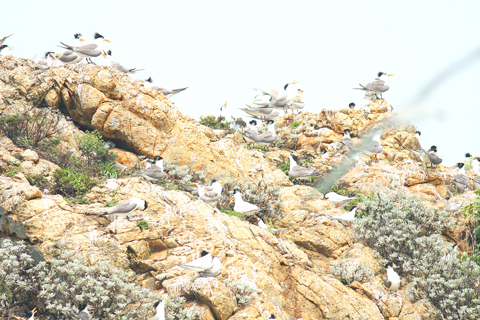 Chinese Crested Terns rest on rocks in the Matsu Islands. Conservationists were worried when they saw one of the birds with a section of a plastic pipe stuck to its beak, and they believe the rare birds are in need of care.
PHOTO COURTESY OF THE ASSOCIATION OF SUSTAINABLE ECOLOGICAL ENGI
Last week, Simon Liao (廖世卿), vice president of the Taiwan International Birding Association, and 10 other executives of bird-watching associations from the US, Canada, the UK, Australia and the Netherlands, saw 16 Chinese Crested Terns — the largest number of the rare birds ever recorded.
They said one of the birds had a section of plastic pipe around the bottom of its beak, and that if the object was not removed, the bird could die of starvation within a few days.
Pictures of the bird were carried in local media on Monday.
The Chinese Crested Tern, also known as Thalasseus bernsteini, is one of the world's rarest birds, with the entire population reported to be fewer than 50 birds.
For most of the 20th century, the species was thought to be extinct, with confirmed sightings in the wild ceasing in 1937.
However, in 2000 a filmmaker discovered a small number of the birds in the Matsu Islands, with the number growing steadily in the past years.
During the latest sighting, bird-watchers said they saw three young birds at the colony, which they saw as evidence that the rare birds are breeding in the Matsu Islands.
Comments will be moderated. Keep comments relevant to the article. Remarks containing abusive and obscene language, personal attacks of any kind or promotion will be removed and the user banned. Final decision will be at the discretion of the Taipei Times.