Chinese tourists load up on Taiwanese products
PINEAPPLE CAKES The tourists that arrived last weekend headed home with bags stuffed full of cakes, snacks and other locally made handicrafts
Chinese tour groups that arrived on last weekend's first cross-strait charter flights prepared to return home yesterday, but not before they spent a great deal of time and money checking in and paying for overweight baggage.
One group, scheduled to return to Nanjing from Taipei's Songshan Airport yesterday afternoon, spent about 40 minutes at the counter checking in their overweight baggage before eventually boarding the flight on time.
Besides their luggage, each passenger carried cases of souvenirs and local desserts, such as pineapple cakes.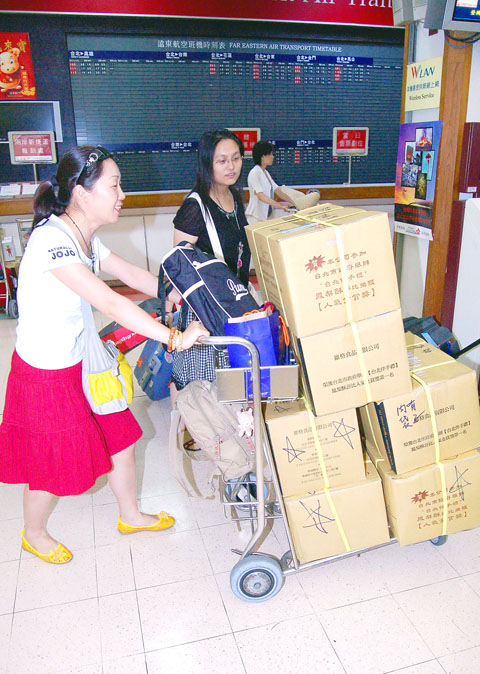 The first group of Chinese tourists who arrived in Taiwan on direct chartered flights leave Taipei's Songshan Airport at the end of their eight-day trip yesterday. Many tourists bought traditional goods such as pineapple cakes and high-mountain oolong tea to take home as presents.
PHOTO: HSU MIN-JUNG, TAIPEI TIMES
The group was scheduled to board the China Eastern Airlines flight and gathered at the counter of Uni Air, China Eastern's local agent. The excessive load of luggage slowed down the check-in process.
"This is probably the worst airport I have ever seen!" a female passenger said. "Why do we have to weigh our luggage here and pay the overweight charge at the other side of the counter?"
Some passengers spoke with the Taipei Times while they waited to check in their luggage.
A woman surnamed Chao (趙) said that she had bought crystal glass and red coral as souvenirs.
She, however, was reluctant to disclose the amount she had spent buying souvenirs. She simply said "More than you think!"
A family surnamed Tu (杜) said they did not have enough time for sleeping and shopping.
When some of them were alerted that they may have problems with overweight luggage, one responded that "We can always pay!"
Ting Hai-yang (丁海洋), one of the team leaders, said that the entire group had 34 people. He estimated that they spent a total of 180,000 yuan while they were here, and that amount did not include the last-minute shopping spree at Taipei 101 and the Sogo Department Store.
Each Chinese tourist in the Nanjing group on average has pumped in approximately NT$60,000 into Taiwan's economy when deducted the expenses on flight tickets.
In related news, flights traveling between northern Taiwan and Shanghai and Guangzhou are proving to be the most popular of the 36 nonstop charter flights scheduled for the third and fourth weekends of July, Taiwan's aviation regulator announced on Friday.
The Civil Aeronautics Administration (CAA) said that on each of July's final two weekends, 19 cross-strait charter flights will depart from Taiwan Taoyuan International Airport and 16 from Taipei Songshan Airport for various destinations in China.
Only one flight each week will head for China from Kaohsiung International Airport.
No flights will depart from other airports in Taiwan that were designated as gateways for the weekend charters because of weak demand.
Shanghai and Guangzhou airports were the most popular among the five Chinese airports authorized to handle the weekend charters, which were launched on July 4.
Additional reporting by CNA
Comments will be moderated. Keep comments relevant to the article. Remarks containing abusive and obscene language, personal attacks of any kind or promotion will be removed and the user banned. Final decision will be at the discretion of the Taipei Times.