New DPP chief bothered by what Ma did not say
Democratic Progressive Party (DPP) Chairwoman Tsai Ing-wen (蔡英文), who was sworn in yesterday, said that she was concerned that President Ma Ying-jeou (馬英九) talked a lot about closer cross-strait relations in his inaugural speech on Tuesday, but made no mention of Taiwan's sovereignty.
"In his entire inaugural speech, Ma didn't say Taiwan or the Republic of China is a sovereign state," Tsai said at her inauguration at DPP headquarters in Taipei yesterday morning.
"He didn't even mention that Taiwan's future should be decided by all Taiwanese people — something he repeatedly said during his presidential campaign," Tsai said.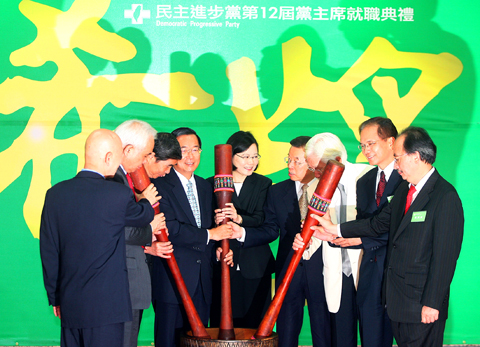 Flanked by former president Chen Shui-bian, fourth left, and former Democratic Progressive Party (DPP) chairmen, Tsai Ing-wen, center, is sworn in as DPP chairwoman at the party's headquarters in Taipei.
PHOTO: WANG YI-SUNG, TAIPEI TIMES
"It is worrying that the Chinese Nationalist Party [KMT] seems to be overlooking the issue of Taiwan's sovereignty," she said.
Tsai won the chairmanship election on Sunday with more than 73,000 votes — making her not only the DPP's first chairwoman but the highest vote-getter in the party's history.
Tsai said the DPP would strive to protect Taiwan's sovereignty while maintaining the nation's cultural and ethnic diversity.
"Ma's inaugural speech made me believe that the DPP will be carrying a heavy burden," the chairwoman said.
"We must stand united with other political parties that share our beliefs to defend Taiwan's interests, review the party's accomplishments and mistakes, further connect ourselves to society, work to deepen Taiwan-oriented values and defend social justice in the globalized world," Tsai said. "Then the DPP will rise again."
Her predecessor Frank Hsieh (謝長廷) agreed with Tsai and called on all party members to stand behind her.
Tsai also said that the DPP would develop an economic plan different from that of the KMT.
"As an opposition party with governing experience, the DPP must come up with a set of economic strategies to overcome the challenges brought about by globalization," she said.
"The DPP's economic policy will put equal weight on economic growth, social justice and ecological conservation," she said.
"We must provide the people with an enjoyable life, high-quality education and a clean environment — that's how the DPP will differ from the KMT," she said.
Tsai got straight down to work yesterday afternoon by presiding over the weekly Central Standing Committee meeting. She asked the committee members to start brainstorming on campaign strategies for next year's county commissioner and mayoral elections.
"We also touched on improving the party's ability to deal with policy issues, talked about setting up a think tank and discussed some legislative bills," she told a press conference after the meeting.
Comments will be moderated. Keep comments relevant to the article. Remarks containing abusive and obscene language, personal attacks of any kind or promotion will be removed and the user banned. Final decision will be at the discretion of the Taipei Times.