Koo apologizes for offensive remarks
Bowing to mounting pressure, Democratic Progressive Party (DPP) chairmanship candidate and former senior presidential adviser Koo Kwang-ming (辜寬敏) yesterday apologized to women for disrespectful remarks he made on Tuesday.
"I would like to offer my sincere apology to all women in this country," he said.
Referring to former vice premier Tsai Ing-wen (蔡英文), the only female contender in the election scheduled for May 18, Koo said that the party's current problems should be dealt with by men and questioned the suitability of letting a "single woman" take care of them.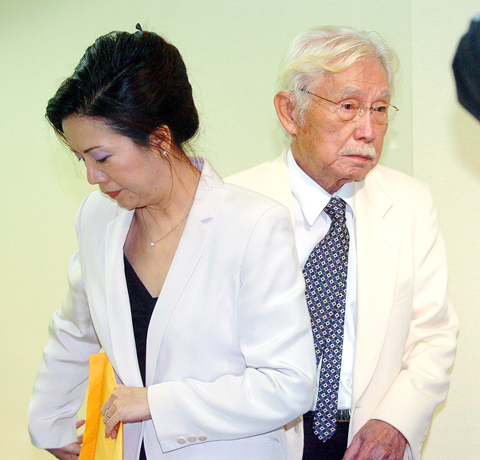 Democratic Progressive Party chairmanship candidate Koo Kwang-ming, right, and his wife Michelle Wang are pictured in Taipei yesterday.
PHOTO: GEORGE TSORNG, TAIPEI TIMES
It was not the first time Koo has made controversial remarks about women. In March last year, Koo insinuated that Vice President Annette Lu (呂秀蓮) was not suitable to run in the DPP's presidential primary, saying "someone in a skirt would not make a good commander-in-chief."
Lu yesterday dismissed Koo's remark as coming from "someone living in the Stone Age who is not fit for the 21st century."
Tsai yesterday remained low-key, saying that she could understand why the 82-year-old Koo would make such remarks.
"He is an elder and he already apologized," Tsai said.
The other contender Chai Trong-rong (蔡同榮) said that Koo's remarks were inappropriate and "didn't sound good."
He emphasized that all people are equal under the Constitution and that the times are different.
Earlier yesterday, several women's rights groups condemned Koo.
At a press conference at the legislature, Taiwan Women's Link (TWL) secretary-general Tsai Wan-fen (蔡宛芬) said the groups did not rule out launching a campaign to call on female DPP members to quit the party should Koo be elected chairman.
Tsai Wan-fen said Koo's repetition of discriminatory comments had harmed the DPP's image, adding that the DPP should change its name to "Democratic Regressive Party."
Additional reporting by Flora Wang
Also See: EDITORIAL: When an apology isn't enough
Comments will be moderated. Keep comments relevant to the article. Remarks containing abusive and obscene language, personal attacks of any kind or promotion will be removed and the user banned. Final decision will be at the discretion of the Taipei Times.