Palay ends hunger strike for Hindraf five
A Singaporean artist calling for the release of five ethnic Indian activists detained in neighboring Malaysia ended his five-day hunger strike yesterday.
Seelan Palay, 23, had been camped outside the city-state's Malaysian High Commission since Monday, consuming nothing but water. Seelan, an ethnic Indian, was protesting the arrest and detention of leaders from the Hindu Rights Action Force who led a massive rally on Nov. 25 in Kuala Lumpur to highlight what the group says is racial discrimination faced by ethnic Indians.
The group's leaders were arrested last month under Malaysia's Internal Security Act, which allows indefinite detention without trial.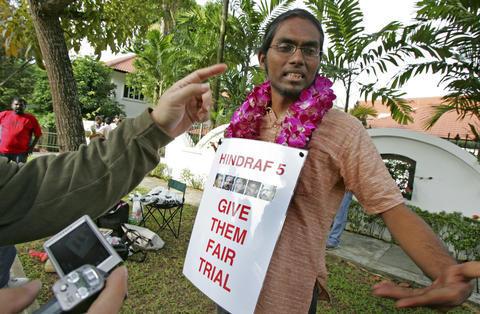 Seelan Palay, 23, a Singaporean artist, is seen with his supporters outside the Malaysian High Commission yesterday in Singapore. Seelan urged the release of five leaders of an ethnic Indian group detained in neighboring Malaysia as he ended a five-day hunger strike.
PHOTO: AP
Yesterday, a crowd of supporters gathered around Seelan and presented him with a garland that he wore around his neck over a placard that read: "Give them fair trial."
"What I have done is only what I can do as an individual. If we had a hundred, we could make a difference," Seelan said. "One day, we will all achieve freedom."
Seelan said he hoped his hunger strike would draw attention to the detentions.
"I hope that the international community, regardless of race and religion, to look into this issue and pressure the Malaysian government to release the Hindraf five," he said.
Two men hoisted Seelan up and pumped their fists in the air as Seelan completed his protest.
"We are so proud that there is at least one Indian in Singapore supporting our cause," said Mayil Sapapathy, 36, an ethnic Indian from Malaysia who works in Singapore. "Indians like us don't get the same privileges in Malaysia like the ethnic Malays do."
Ethnic Indians form about 8 percent of Malaysia's 27 million people, and complain that the government denies them opportunities in jobs, education and business. They say that years of systematic repression have kept them at the bottom of society.
The government denies this.
Officials could not be reached yesterday at the Malaysian High Commission, which was closed, while Singapore police said they had no comment on Seelan's protest.
Protests are rare in Singapore, where police permits are required for outdoor gatherings of more than four people.
Comments will be moderated. Keep comments relevant to the article. Remarks containing abusive and obscene language, personal attacks of any kind or promotion will be removed and the user banned. Final decision will be at the discretion of the Taipei Times.