Conservation helps national bird
WATCH THE BIRDIE Although an official study has not been done, bird watchers are noticing an upswing in the number of Formosan blue magpie sightings
The country's efforts to save an endemic rare bird, the Formosan blue magpie, have borne fruit, a local conservationist said yesterday.
Liao Shi-ching (廖世卿), president of the Taiwan International Birding Association, made the remarks after he took a picture of seven Formosan blue magpies looking for food together along the Southern Cross-Island Highway in the southeastern county of Taitung recently.
"It is rare to see so many of these birds together," Liao said, adding that the scene could serve as evidence of Taiwan's achievement in conserving the endangered bird species.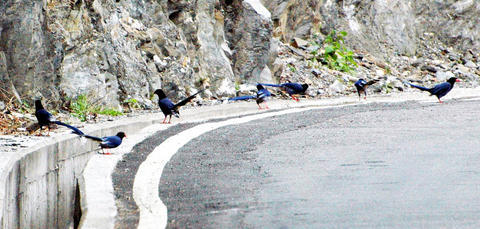 Seven Formosan blue magpies are pictured together on the roadside along a section of the Southern Cross-Island Highway in Taitung County yesterday.
PHOTO: CNA
"The picture really indicates that Taiwan's conservation work is going very well," Liao said, "I have even seen families of Formosan blue magpies near Taipei city."
Liao and other members of the birding association are frequently out in areas where the birds are known to visit and rarely do they see so many birds at the same time.
However, Liao declined to say whether this was a clear indication that the birds' numbers have significantly increased. He said a proper study should be undertaken by the Council of Agriculture.
But Liao said he believed the numbers are "increasing" because of the introduction of the Wildlife Protection Act in 1991 and increasing public awareness of the need to protect the birds.
The Formosan blue magpie, also known as the "Long-tailed mountain lady" is one of Taiwan's 14 endemic bird species. It lives in the mountains at elevations of 300m to 1,200m.
Although one of the main threats to the survival of Formosan blue magpies is illegal capture, Liao said reports of such cases are decreasing because of rising awareness of preservation.
The Formosan blue magpie was named Taiwan's national bird last year.
Comments will be moderated. Keep comments relevant to the article. Remarks containing abusive and obscene language, personal attacks of any kind or promotion will be removed and the user banned. Final decision will be at the discretion of the Taipei Times.