Solar car could hit market soon
NOT A RACER Although the model is inspired by a National Kaohsiung University of Applied Sciences race car, the market version will only be able to travel up to 70kph
For commuters worried about rising fuel prices, greenhouse gas emissions and the headache of finding parking, a compact solar-powered vehicle may be the answer -- and could be on the market within a year.
"At a time when carbon emission reduction and fighting global warming are top priorities of governments and people, a wholly solar-powered car would offer a good alternative for the green-minded," the car's research and development team leader, Ay Herchang (艾和昌) told the Taipei Times in a phone interview.
A prototype of the car was inspired by the Apollo, a solar car Ay and a team at National Kaohsiung University of Applied Sciences built to compete in races such as the Australian World Solar Challenge (WSC), the professor of engineering said.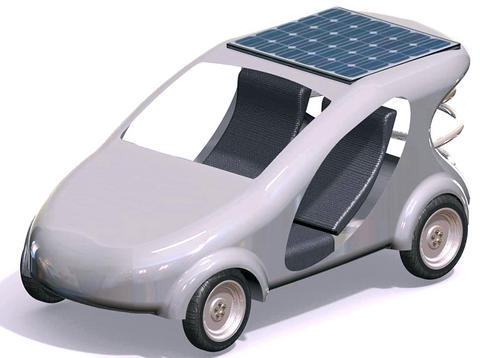 A drawing of the twin-seat, solar-powered vehicle developed by National Kaohsiung University of Applied Sciences.
GRAPHIC COURTESY OF NATIONAL KAOHSIUNG UNIVERSITY OF APPLIED SCI
"As [our team] has done quite well in the past 10 years at international solar car races -- this year ranking second out of more than 50 cars at the WSC -- we decided two years ago to broaden our advanced solar technology applications and make a car for the consumer market," he said.
The WSC, which celebrated its 20th anniversary this year, requires participants to race solar-powered vehicles 3,000km across various Australian terrains, he said.
Several obstacles had to be overcome to turn the one-seater solar race car capable of speeds up to 145kph, into a domestic consumer vehicle, he said.
"With added seats and passengers, the car was bigger and heavier, which compromised its speed," he said, adding that driving on the nation's highways would be out of the picture.
A light-weight model is best, Ay said, as it requires less battery power to maintain speed. When there is a lack of sunlight, the car runs on a solar-charged battery.
The final product of the team's tweaking is a 250kg two to three-seater that travels at up to 70kph and comes with a price tag of about NT$800,000, he said. At 3m by 1.3m, it's easy to park, too.
The battery can be charged with just a few hours sunlight and can power the car for three hours.
On vehicle safety, Ay said: "Parts of the car will be made with Nomex honeycomb, a material widely used in aircraft and aerospace components for its high strength, excellent impact and fire resistance as well as its light weight."
Though solar-powered city roamers have already debuted on some European markets, the made-in-Taiwan version is half the weight and costs half the price, Ay said.
"Moreover, in Taiwan, with our abundance of sunlight, this car is a viable solution for us to save gas and the environment," Ay said.
Comments will be moderated. Keep comments relevant to the article. Remarks containing abusive and obscene language, personal attacks of any kind or promotion will be removed and the user banned. Final decision will be at the discretion of the Taipei Times.